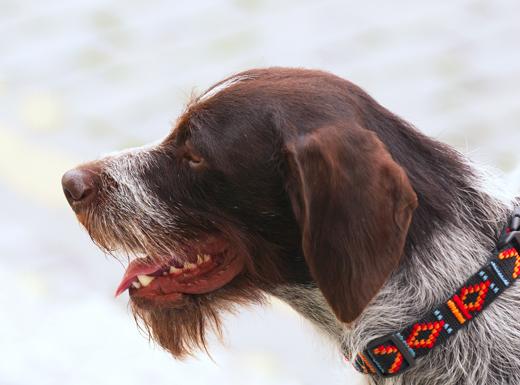 In my own words
Hello! Or as they say in my home country Guten Tag! I'm going to go on a long walk with my owner today, and I hope I will chase loads of birds and animals out of the bushes. I'm hoping the children will come too, I love playing with the children. Tomorrow we are going to the agility day, and I will be jumping over lots of hurdles and through hoops; it's no big deal for me though – I'm really smart and I can quickly learn everything I supposed to do. I don't see many of my own breed over there, I think we're quite rare and unique .
I think I might go for a swim when I am out la- Wait! Smell that? Someone's cooking dinner. Lamb I think and, wait…potatoes too! Ohh, I best head over there and see if anything will be left over for me.
My ideal owner(s)
Families
People who live in the country
People who enjoy long walks or runs
Dog Sport Enthusiasts
What they say about me
Loyal
Kind
Gentle
Excellent gundog
Is this German Long Haired Pointer for you?
Test your knowledge about the German Long Haired Pointer
Information essential about the German Long Haired Pointer
Kennel Club Group:
Gundog
Size:
The GLP is between 60–70 centimetres (24–28 in) at the withers for males, and 58–66 centimetres (23–26 in) for females. It weighs approximately 30 kilograms (66 lb). They are a medium sized dog.
Popularity:
GLPs are a fairly rare breed.
Breed History:
German Longhaired Pointers are one of the oldest European gun dog breeds, and there are paintings to suggest that they have been bred as hunting dogs even before modern gunpowder weapons had existed; being used by falconers. There is little evidence on what the characteristics of these early breed types was, except that they did make excellent hunting dogs. In the early 20th century there was widespread cross breeding with other breeds, and this is thought to have developed their long haired coat.
GLPs belong to a group of dogs known as German pointers, and are commonly grouped with Shorthairs and Wirehairs and all three of these breeds share a common history. To a larger extent they belong to a group of gundogs known as pointers, so called because they have an ability to physically point with their nose in the direction of game; but they are also considered more versatile than standard pointers and hence are more regularly classed into a group of gun dogs known as 'versatile hunting dogs'.
Character:
GLPs have very typical characteristics of other gundog breeds. They are very loyal to their owners, and in general are kind, gentle, friendly and intelligent. They do carry the bred instincts of a gun dog, and will look to fulfil them – particularly when they are young, so training is required to control this. They like to chase anything they can and love to hunt, meaning that they require a lot of exercise due to generally being very excitable. They are, like the Shorthair, also very sociable with other dogs. They have an excellent nose, and can pick up the weakest of scents; so they always know when their owners are eating dinner! They are great swimmers, and like running though shallow water.
Temperament:
GLPs are generally calm, but as puppies they can sometimes become aggressive due to the natural 'hunt instinct' they possess. This can easily be phased out with training though, and they will eventually develop into gentle and intelligent dogs. They are also excellent with children, especially later with life; and enjoy the company of them. They are quite sensitive to change and do not like to be left on their own for extended periods of time, and may experience separation anxiety as a result. Because of this the breed would perhaps be more suited to families, rather than someone living on their own in a flat. Or someone who has to move around a bit. They are constantly alert, and will never fail to pick up on a ringing doorbell or opening letter box.
Conformation:
GLPs  should always move with great speed and freedom. The coat is medium length, about 3 to 5 centimetres (1.2 to 2.0 in) long on the body, with the feathering somewhat longer. The coat is slightly wavy, but must not be curly. It is not silky or soft, but rather firm and shiny. It always has a double coat, with the undercoat being quite dense, but not so profuse as to make the guard hairs stand out from the body. The eyes should be dark and of medium size, with tight eyelids. They should have a strong jaw and a slightly rounded head. The ears should be turned down and quite high on the head, and have wavy hair. The teeth should fit a regular scissor bite. The feet should be well arched, compact, close knit, round to oval shaped with strong nails and pads; turning neither in nor out. Tufts of dense short hair between toes. The tail should be medium in length. As gundogs, GLPs sometimes have their tails docked, but this is now banned in many countries. However a vet may give medical advice to have this carried out (if, for example, the young dog keeps wagging the tail too hard and is injuring itself as a result).
Colour:
GERMAN LONG HAIRED POINTERs are only brown all over or brown with white markings. The shades of brown vary.
Training:
The GERMAN LONG HAIRED POINTER is a working dog breed, and as such they have a natural ability to want to please and be trained. Training the young dog is essential, as puppies can get over excited. The GERMAN LONG HAIRED POINTER is always looking to work, so training as a working dog will come as no problem to it. They are very intelligent, and can be trained to take part in, say, agility trials. They require a lot of exercise, and this would be a great way to get it!
Care:
GERMAN LONG HAIRED POINTERs only require an average amount of grooming, and this should be done with a brush at least once a week. The hair can occasionally grow course, and can pick up leaves, thorns and the like while they are out on walks, and chasing animals into bushes; so care must be taken to remove them.
Health:
GERMAN LONG HAIRED POINTERs are, in general, a very healthy breed; and genetic breed disorders are rare. They are prone to ear infection, so cleaning the ears regularly is necessary to avoid this from happening; especially if the dog has been swimming.  They have an average lifespan of 12-15 years.
GERMAN LONG HAIRED POINTERs need a heavy amount of exercise, to fulfil those natural hunting instincts. They would make excellent jogging partners, and require plenty of free space where they are able run about; and as a result this breed would be more suited to an owner who lives in a rural area, as opposed to someone who lives in the inner city. Due to their intelligence they are excellent at dog spots, such as obedience and agility.
You may also like:















Advice on choosing your breed »
Find an animal shelter or rescue home where a German Long Haired Pointer is waiting for a new home »
The following grid gives a fast track review which covers all breeds. You can apply it to help you decide if a German Longhaired Pointer is suitable for you, the environment where you live, your personality and your lifestyle. On the grid, 1= strongly disagree, and 5= strongly agree. You might like to save or print off this section and keep it for reference while you check some other breeds before making your final choice.
Be the first to rate this breed »
|
*PLEASE NOTE: All our breed profiles are general, and all dogs are individuals. Always talk to the breeders and meet the owners you are buying from. Try to meet the dog and its parents if it is a puppy in their home environment.