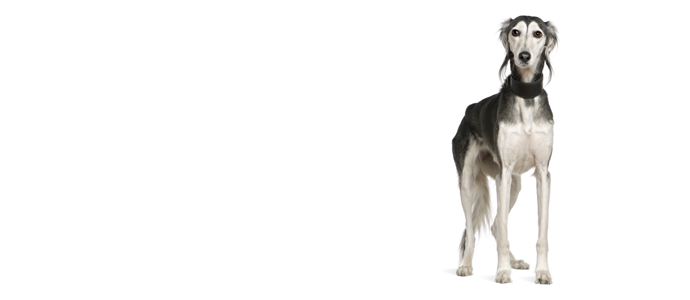 In my own words
You want to take me for a walk? Well, as long as we're walking fast I suppose that'll do. I'd much prefer it if we went for a long jog though! Honestly, there's just nothing better than racing around outside as fast as my legs can take me – and you better believe me when I say that I can run like the wind! I was born to run, after all I'm a natural hunter and I need to make sure nothing can escape me. Did you know that my ancestors used to hunt gazelle? That's how quick I can be! You better be careful not to let go of the leash or you won't see me for dust… don't say I didn't warn you!
Did you say you're having some friends over for dinner, tonight? Well, I'll just stay out the way if it's alright with you. I'm a bit shy when it comes to having company. Don't you worry about me though; I'll be very well behaved. I'm just a bit nervous around people I don't know. How about I entertain the kids while you talk to your friends?
My ideal owner(s)
Single people
Couples without children
Families with older children
Active people
Joggers and hikers
What they say about me
Elegant and graceful
Independent
Quiet
Loves to run
Intelligent
Please read on to find out more about me, and whether I'll be someone you'll be happy to live with for the next 12 to 14 years!
Is this Saluki for you?
Test your knowledge about the Saluki
Information essential about the Saluki
Kennel Club Group:
Hound
Size:
Medium: Weight Male 35 – 65 lb (16 – 30 kg) Female 31 – 55 lb (14 – 35 kg)
Height Male 23 – 28" (58 – 71 cm) Female 17 – 23" (43 – 58 cm)
Popularity:
While the Saluki is not a very popular breed of dog in the UK it is in the same line as other similar breeds of hounds such as the Borzoi, with around the same number of puppies being registered with The Kennel Club each year. The breed is much more popular in the Middle East, where it has been loved for thousands of years and is the only breed of dog considered to be clean by the Muslim religion.
Breed History:
Salukis are one of the oldest breeds of domesticated dog, dating as far back as 6000BC. The Saluki has been found in Ancient Egyptian tombs, mummified and buried with nobility.
The Saluki originates from the Middle East and has been a popular breed in the Arab world for thousands of years. The name 'Saluki' is thought to be derived from the town of Suluk in Libya. The Saluki has spread throughout the Middle East due to the nomadic culture of tribes in the area, meaning the dogs were taken from place to place. The breed travelled across the Gulf region to Egypt, Persia, Afghanistan, India and Sudan. The breed is the only dog considered to be clean by the Muslim religion, as it is mentioned in the Koran as a gift from Allah.
By the time of the Tang Dynasty in 618 AD, the Saluki had entered China and the breed frequently appeared in paintings by the fifth Ming Emperor Zhū Zhānjī.
It wasn't until the 12th Century that the Saluki was brought to Europe, when soldiers returning from the Crusades brought the dogs back with them. They were frequently called Gazelle Hounds or Persian Greyhounds.
In 1840, the first Salukis were brought into England and a modern breeding programme began in 1895 when Florence Amherst imported a pair of Salukis from Egypt after seeing them on a tour of the Nile. She struggled with breeding the dogs until the 1920s, when more Salukis were brought into the country by officers returning from war in the Middle East. Once such officer was Brigadier General Frederick Lance, who worked with Florence Amherst to raise recognition of the rare breed. In 1923 the Saluki Breed Club was formed.
During World War II, many Salukis were euthanized as there were not enough food rations to feed them. Interest in the breed also weakened and breeding stopped entirely. Only a small number of Salukis survived and the breed remains rare even to this day.
Character:
You can expect to form a very special bond with your Saluki, which is different to most other breeds of dog. Your Saluki isn't going to go into a frenzy every time you come home or walk through a door, he may not even seem that interested, but that's just down to his dignified character. Though some people may find the Saluki to be a shy dog, many believe he is just reserved and independent. Your Saluki will love you dearly and care about you very much; he just doesn't feel the need to get over excited whenever he sees you. It's important to train and socialise your Saluki from an early age to prevent him from becoming too aloof with other people. The one thing which will never fail to make your Saluki happy is running. Salukis were bred to run and they need a lot of room to zoom about in. A long, daily power walk will keep your Saluki content, but if you like to jog then he'll be even happier! Don't expect to be able to keep up with your Saluki if he gets away from you though. Saluki's are incredibly fast, so they should be kept on a leash.
Temperament:
Your Saluki is incredibly calm, with an even temperament and polite demeanour. Graceful in both motion and personality, Salukis are gentle and amiable companions with plenty of affection to bestow upon their families. Your Saluki has a curious nature which makes him very aware of his surroundings. The saluki tends to become attached to just one or two members of the family, but also has an affinity for older children and can be very protective of them. They can be a little bit nippy though, which means they are not great for families with young children that might try their patience. Your Saluki is a very sensitive dog and therefore should never be subjected to harsh training methods and will not enjoy games like tug or fetch. However, their hunting instinct means they adore chasing moving objects. Your Saluki is very quiet and will only bark if he feels it is absolutely necessary.
Conformation:
The Saluki has an elegant appearance. The head should be long and narrow with a broad skull. They eyes are large and dark, while the ears are long, feathered and drop down. The neck is long and sinuous, sloping towards a narrow, deep chest and broad back. The legs are long, as is the tail which is curved. The coat can come in two varieties; smooth or feathered. Both coats are short and close, but the feathered variety also has silky feathering on the ears, underside of the tail, back of the legs and the thighs.
Colour:
The Saluki's coat can come in a range of colours, including white, cream, golden, fawn, red, tan, black and tan, grizzle and tricolour.
Training:
Your Saluki is quick to learn as he is incredibly intelligent, however his independent nature means that he can become bored easily and will not respond well to a lot of repetition. Therefore, training sessions should be short, fun and varied. As your Saluki is so sensitive, harsh or severe training will not suit him. Instead, be kind and gentle, yet firm and use reward based training. His instinct to hunt has been bred into him and he should not be discouraged from doing it.
Care:
Your Saluki is a low shedder and a low maintenance breed when it comes to grooming. The occasional brush will keep his coat clean, healthy and tangle free. Feathered coats need a bit more attention on the feathered areas. The eyes and ears should be checked and cleaned on a regular basis, and their noses can be prone to sunburn.
Health:
The Saluki can be prone to a number of health conditions including eye problems, cancer, cardiac problems and hypothyroidism. Heart murmurs and cardiomyopathy are a common health issue for the breed, however cancer is the most common cause of death in Salukis. The average lifespan of the Saluki is 12 to 14 years.
You may also like:

(Interest Shown)">

(Interest Shown)" class="overviewimg"/>

















Advice on choosing your breed »
Find an animal shelter or rescue home where a Saluki is waiting for a new home »
The following grid gives a fast track review which covers all breeds. You can apply it to help you decide if a Saluki is suitable for you, the environment where you live, your personality and your lifestyle. On the grid, 1 = strongly disagree, and 5 = strongly agree. For example, if you are looking for a dog that you can take on runs with you, look down the list under 'activities' and you will see that Salukis are perfect jogging partners, scoring 5. If you are looking for a dog that is relatively quiet, look under 'behaviour' and you'll see a Saluki would be an excellent choice, scoring just 1 under 'barks a lot'. You might like to save or print off this section and keep it for reference while you check some other breeds before making your choice.
Be the first to rate this breed »
|
*PLEASE NOTE: All our breed profiles are general, and all dogs are individuals. Always talk to the breeders and meet the owners you are buying from. Try to meet the dog and its parents if it is a puppy in their home environment.