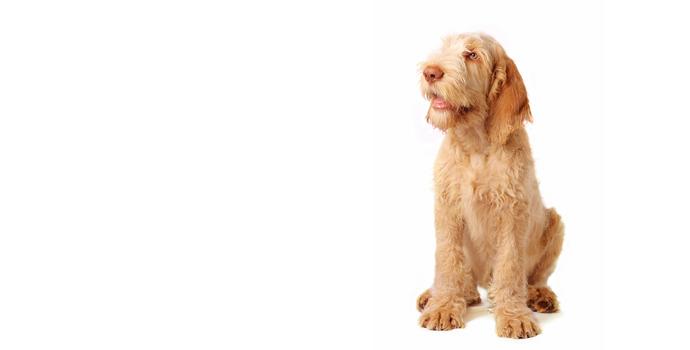 In my own words
"Hunting is my passion! Once I'm on the scent, there's no stopping me!"
What shall we hunt today? Bird or beast? You know, they call me a versatile gundog which means that I can hunt creatures both on land and on water. You're after some water fowl? No problem, I can handle that! If there's one thing I love as much as hunting it has to be swimming! My coat is really special you see; it protects me from the water and the cold, so I'll jump right into to that icy pond after a duck without a moment's hesitation!
I've heard the rumours of course; I know what people say about me. They say I'm too slow. Well, they just don't understand my hunting technique… I'm not slow, I'm careful and considered! I prefer to keep a steady pace than zoom around like some kind of crazy collie.
I know I get quite serious when we're out on the hunt, but once we're done I'd love to have some big cuddles and tummy rubs! I love to snuggle up after some hunting and retrieving. What a perfect day!
My ideal owner(s)
People who are very active
People who love to hike
Families with older children
Singles
Couples
Experienced dog owners
What they say about me
Excellent hunting Dog
Friendly giant
Affectionate
Strong
Mellow and easy going
Please read on to find out more about me, and whether I'll be someone you'll be happy to live with for the next 13 years!
Is this Italian Spinone for you?
Test your knowledge about the Italian Spinone
Information essential about the Italian Spinone
Kennel Club Group:
Gundog
Size:
Large: Weight Male 75 – 86 lb (34 – 39 kg) Female 64 – 75 lb (29 – 34 kg)
Height Male 32.5 – 27.5" () Female 22.5 – 25.5" ()
Popularity:
The Italian Spinone is a popular hunting dog in Italy where the breed is loved from the chilly Alps in the North to the warmth of the Southern coast. However the Spinone is a rare, usually unheard of breed throughout the rest of the world and not an easy dog to find outside of its native Italy. The American kennel Club did not recognise the breed until 2000.
Breed History:
Originating in Italy where it was bred as a versatile hunting dog, the Spinone breed line can be traced back as far as the Renaissance, though it could be much older with some experts believing that the Italian Spinone is an ancient breed dating back to 500 B.C.
Developed as a hunting dog, the Spinone loves to hunt and retrieve and is still prized for its abilities in this area.  It has been suggested that the Spinone is a cross between White Mastiffs, French Griffons and Italian Setters, bred with dogs which were brought to Italy by Greek tradesman. However, as the breed dates back so far this remains uncertain. It is not known whether Italian Spinones were originally bred in order to create a good hunting breed or if it was a happy coincidence and the Spinone was naturally bred from common stock.
It wasn't until 1950 that the breed was reconstructed to be more pure and refined. Though the Spinone makes a great pet, he's happiest when hunting and is still a popular hunting dog today due to his great sense of smell and skills in pointing, setting and retrieving.
Character:
A large dog with an impressive stature, your Italian Spinone is reputed for his strength and stamina. With a love of hunting, your Spinone will need plenty of exercise to keep him happy and content. He may not be as fast as a collie or pointer, but he prefers to keep a slow, solid and steady pace when he works on the hunt. Even the Spinone's coat makes him a good hunter as it protects him from water and cold temperatures, which means he is more than happy to jump into a freezing lake or swamp in order to hunt or retrieve water fowl. Extremely intelligent and patient, your Spinone learns fast and responds well to motivational training, providing he feels that the human training him is above him in the pack. Though he takes training and hunting very seriously, your Italian Spinone is a happy go lucky, easy going breed with a comical and clownish personality. His friendly nature means he's sociable and welcoming to visitors, but he isn't a protection dog. Intruders are more likely to be licked than barked at and your Spinone is unlikely to attack unless you or your family are directly and aggressively threatened.
Temperament:
Known among its breeders as the friendly grouch, the Italian Spinone may have a grumpy look on his face, but it completely contradicts his nature. Your Spinone is sweet, affectionate and wonderfully gentle as well as being incredibly sociable and loyal. He'll happily get on with other dogs and animals and thrives on companionship, so expect to have him with you whether you are at home, in the garden or travelling. He may be independent at times, but he has a sensitive side which means that heavy handed, negative or harsh training can upset him. Although your Spinone is generally an easy going dog, his sensitive temperament means that he's best suited to a household with older children who are able to respect him and treat him gently.
Conformation:
A large and rugged looking dog, the Italian Spinone has a distinct and strong stature with a robust frame. The chest is broad, deep and long; extending at least as far as the elbow. The square muzzle is the same length as the backside of the skull and the nose has large wide open nostrils. The colour of the nose differs depending on the shade of the coat and should be flesh coloured in white Spinones, darker in white and orange dogs and brown in brown and brown roan Italian Spinones. The teeth should meet in a level or scissor bite and the triangular ears hang downwards. The Italian Spinone's coat is waterproof and should be thick, long, dense and wiry, with a wave to it. The hair should be longer around the eyebrows, chin and lips, creating a gruff yet distinguished appearance.
Colour:
The Italian Spinone's coat comes in a range of colours; white, white and orange, orange roan with or without orange markings, white with brown markings and brown roan with or without brown markings.
Training:
A smart, loyal and obedient dog, your Italian Spinone is a fast learner. However, he can be stubborn if he thinks the he ranks over you, so trainers must have an air of authority and be consistent, firm and fair in their technique. Motivational, reward based training works best for the Italian Spinone. Socialisation with people and other animals should take place when your Italian Spinone is a young puppy, as the breed can become timid if allowed.
Care:
Grooming is practically a breeze when it comes to the Italian Spinone. The dogs have been known to groom themselves like a cat would, and your involvement with keeping his coat healthy is relatively small. A weekly brushing and bathing as necessary is all the regular grooming you will need to do, but every now and then he will require a small amount of stripping. This involved pulling away the dead hair to neaten the coat, rather than cutting or clipping it.
Health:
The Italian Spinone has an average life span of 12 to 13 years. Due to the rarity of the Italian Spinone, there has been very little research collected on their health. Though they are thought to have relatively few major health concerns, they can be prone to an inherited disease called Cerebella Ataxia which creates an abnormal gait due to a problem with part of the brain. Minimise your chances of getting a dog with Cerebella Ataxia by buying from a reputable breeder. Italian Spinones are also prone to mild bloating and ear infections as well as hip dysplasia.
You may also like:















Advice on choosing your breed »
Find an animal shelter or rescue home where a Italian Spinone is waiting for a new home »
The following grid gives a fast track review which covers all breeds. You can apply it to help you decide if an Italian Spinone is suitable for you, the environment where you live, your personality and your lifestyle. On the grid, 1 = strongly disagree, and 5 = strongly agree. For example, if you are looking for a dog that is suitable for a farm, look down the list under 'environment' and you will see that Italian Spinone's are perfect for country living, scoring 5. If you are looking for a dog that would make a good hunting dog, look under 'activities' and you'll see an Italian Spinone would make an excellent choice, also scoring 5 as a good gundog/retriever. You might like to save or print off this section and keep it for reference while you check some other breeds before making your choice.
Be the first to rate this breed »
|
*PLEASE NOTE: All our breed profiles are general, and all dogs are individuals. Always talk to the breeders and meet the owners you are buying from. Try to meet the dog and its parents if it is a puppy in their home environment.