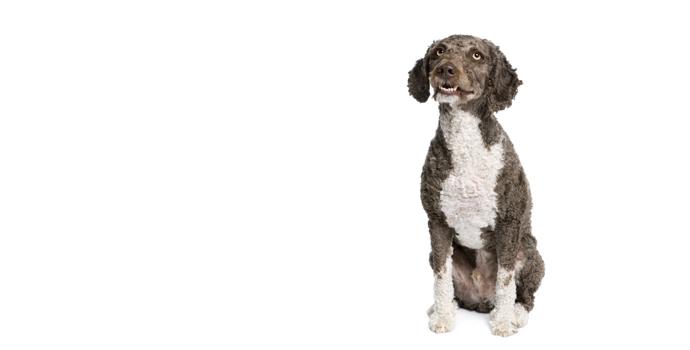 In my own words
Hola!
Do you like sheep? I herd sheep. I love herding sheep.  I also love water. I suppose that goes without saying. I suppose it goes with out saying that I came from Spain too.  Well I did.  Back in Spain I assisted fisherman as well as fulfilling my gundog duties.  I'm a great working dog. We must remember, work hard play hard. I'm a fun loving, animated dog who just loves to clown around with the kids in my family. I guess you could say I demand a lot of attention.  I just love to play. Sure I get up to a lot of antics but I have got a serious side. I get hugely protective over my family.
My ideal owner(s)
Families
Athletic owners
Owners in the city, country, or suburbs who give their dogs ample exercise and work
Allergy sufferers
What they say about me
Fun loving
Good with children
Versatile
Please read on, to find out more about me, and whether I will be someone you can be happy with for the next 12 years, or even longer!
Is this Spanish Water Dog for you?
Test your knowledge about the Spanish Water Dog
Information essential about the Spanish Water Dog
Category: The American Kennel Club Foundation Stock Service recognized the breed in 2005 through the efforts of Lisa Harper and the Spanish Water Dog Club, Inc. The American Kennel Club approved the breed to begin competition in American Kennel Club herding, in dog agility trials, obedience, and tracking beginning January 1, 2008. Herding instincts and trainability can be measured at non-competitive herding tests. Spanish Water Dogs that exhibit basic herding instincts can be trained to compete in herding trials. Additionally, the breed was recognised by the American Herding Breed Association in 2007.
The approximate measurements are:
Height: Males (at the withers): 44 to 50 cm (17 to 20 in) & Females (at the withers): 40 to 45 cm (16 to 18 in).
Weight: Males18 to 22 kg (40 to 49 lb) & Females14 to 18 kg (31 to 40 lb)
Popularity:
Breed History:
The Spanish Water Dog or Perro de Agua Español is a breed of dog developed by the shepherds in Spain as a multi-purpose herder who was also used sometimes as a gundog, as well as an assistant to fishermen.
There are many different theories as to its origin and history. Records suggest water dogs have been around the main wetlands of the Iberian Peninsula since ancient times. Portuguese and Spanish water dogs are clearly related and have a common ancestor. Regardless of its exact origin, it is documented that there was a wooly coated Shepherd Dog on the Iberian Peninsula around 1100 AD. What is then for sure is that this a very ancient and rustic breed, very well adapted to the climate and terrain conditions found in the wetlands and coastal mountains of the Spanish shores.
Historically, the SWD were primarily used as Herding dogs to move the flocks of sheep and goats from one pasture to another. The dogs were also called upon to work wherever a dog was required. For example, they were taught to work with fishermen as well as being taught to retrieve when hunting with the farmer
In about 1975, two enthusiasts, Antonio García Pérez and Santiago Montesinos travelled around the countryside of Southern Spain, through the remote villages and farms of the mountainous region of Andalusia and bought or borrowed a number of dogs from the shepherds that they felt most fit the type they were looking for to establish a breeding program.
In 1980 the Spanish Water Dog Club (Spain) was formed in order to promote the breed and help get it recognised in its own country.
In 1985, after a lot of hard work and displaying the breed at various venues and dog shows the Spanish Kennel Club accepted it and gave it official status. It was provisionally recognised by Fédération Cynologique Internationale until 1999, when it was permanently recognised
Character:
The Spanish water dog is a loving and affectionate dog. The breed is a very versatile worker and possesses a protective nature.
Temperament:
The Breed Standard describes them as "faithful, obedient, brave, good tempered and gay." They are truly versatile, fitting into family life with ease, provided you have the time to exercise their mind. As the name implies, they love water (at least most do) and love walks or retrieving games. A good companion for children, and should alert you to strangers approaching. Therefore they make acceptable guard dogs.
Conformation:
The Spanish Water Dog is a medium size, athletic, robust dog that is slightly longer than tall. Their tails are usually docked in the US, but undocked tails are not a fault in conformation showing if the dog was bred in a non-docking country.
The head should be strong and carried with elegance. The skull is flat and the top is parallel with the top of the muzzle. The nose, eye-rims and paw pads are the same colour as the darkest part of the coat or darker. The eyes are expressive and set fairly wide apart. They should be hazel, chestnut or dark brown in color, depending on the coat colour. The ears are set at medium height on the skull, and are triangular.
They have a distinctive curly coat, which is woolly in texture and may form cords when long. The coat should not be clipped or groomed for aesthetic purposes. Instead, it should look entirely natural, as though it is not groomed at all. It should never be trimmed, but sheared down at least once a year. Spanish Water Dog puppies are always born with curly hair.
Colour:
The Spanish Water Dog can be seen in a variety of colours. It may be black, beige, brown, white or bicolour where the second colour is white (brown and white or black and white). Tri-coloured dogs are strictly prohibited by the currently held (worldwide) standards for the breed.  This is also the case for black and tan or brown and tan colour combinations
Training:
Care:
Spanish Water Dogs require minimal grooming. They should never be brushed, instead, as the cords grow they should be checked for matting. When matting does occur they should be gently pulled apart without tearing the cords. If there is too much matting the cords should be sheared. Spanish Water Dogs should be bathed only when dirty in lukewarm water. Spanish Water Dogs should be allowed to air-dry. The cords must be sheared one or more times a year. Ears and eyes should be cleaned as often as they are dirty. As with all dogs nails should be trimmed. Spanish Water Dog puppies should be trimmed for the first time at around the age of 4 months.
Health:
Recent health testing has uncovered the following issues include hip dysplasia, progressive retinal atrophy (prcd-PRA), hypothyroidism, addison's disease, allergies and cataracts. The breed's life expectancy is about 14 years.
You may also like:















Advice on choosing your breed »
Find an animal shelter or rescue home where a Spanish Water Dog is waiting for a new home »
The following grid gives a fast track review, which covers all breeds. You can apply it to help you decide if a Spanish water dog is suitable for you, the environment where you live, your personality and your lifestyle. On the grid, 1= strongly disagree, and 5= strongly agree. For example, if you are looking for a dog to make a good walking companion, look down the list under 'Activities', and you will see that Spanish water dog have lots of energy and are strong walkers, scoring 5. If you want a dog that is good for country living, look under 'Environment' and you will see that Spanish water dog are suited to country living, scoring 5. You might like to save or print off this section and keep it for reference while you check some other breeds before making your final choice.
Be the first to rate this breed »
|
*PLEASE NOTE: All our breed profiles are general, and all dogs are individuals. Always talk to the breeders and meet the owners you are buying from. Try to meet the dog and its parents if it is a puppy in their home environment.