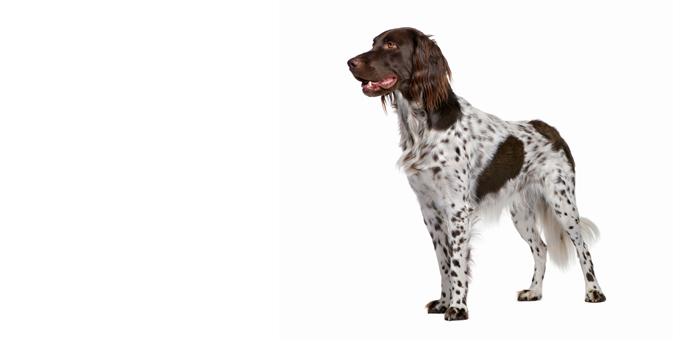 In my own words
Would you like to play? Go for a walk? Be sniffed? Don't take it the wrong way I'm a sociable dog.  Small and sociable! Today my owners left me home on my own for hours. It was horrible. Thankfully, they have never done that before. I really hope they don't do it again. You see, I can't be alone for great lengths of time. I am very much a companion to my humans. I just love to be around them.  I am a gun dog and my owner and I have such fun when we go hunting.  My favourite bit about hunting is using my nose. I can sniff out a trail and follow it all day. I traverse land, mud and water. I must leave now as this is about the time when my owner wakes up and I am keen to bring him his slippers!
My ideal owner(s)
Families
Country dwellers
Hunters
Walkers
What they say about me
Barks
Family companion
Versatile
Loves water
Is this Small Munsterlander for you?
Test your knowledge about the Small Munsterlander
Information essential about the Small Munsterlander
Size: Medium
Weight: Male & Female averages at approximately35 pounds (16 kg)
Height: Male, 50 to 56cms & Female 52 to 56 cms
Popularity:
The Small Munsterlander is a rare breed in the United States, numbering perhaps in the low thousands, and demand from hunters outstrips the number of available dogs, so breeders typically give preference to hunters. They're especially hard to come by for non-hunters there. They are more numerous in Germany, the Netherlands, and the Czech Republic.
In the United Kingdom, the breed is less common still. Recognised by The Kennel Club as an imported breed in 2006, they are still to be established in the hunting community.
Breed History:
In the 1800's bird dogs in Germany came in all shapes, sizes and coat colours. In the latter part of the 19th century, because of the growing interest in the individual breeds, the different types were all separated. When the German Long-Haired Pointer Club drew up its standards, for some reason, the only colour allowed was liver and white. Litters with all colourations were produced and the black and white puppies, many with excellent bloodlines, were given away to farmers and hunters from the Munster area in Germany. Colour did not matter to them and, so these puppies were bred, possibly bringing in other breeds, for example, spaniel or setter types. Until 1919 the Large Munsterlander was given recognition in his own right to differentiate him from the smaller version.
Originally a dog bred to work with noble families' falconers before guns were used in bird and small game hunting, ancestors of the Small Munsterlander had to work in upland areas to flush prey for the falcon, then allow the falcon to keep the prey until the falconer could retrieve it while the dog pointed at the catch. To this day the Small Munsterlander has excellent close searching and pointing drive. With wider availability of guns and personal time for commoners, hunting became more popular, and the breed was further developed as a retriever that worked equally well in the field and water. Owners of the breed consider it to be uniquely effective in working as a team with the huntsman in all phases of the hunt, akin to the close cooperation between a sheepherder and Border collie.
By the 1800s the breed had fallen into obscurity. Small Munsterlanders were little known, kept by a few families on farms around Munster. For a half century the few dogs that were bred were primarily companions, and used when hunting to feed the family rather than for sport. It developed a local reputation as the dog to have when a hunter's success or failure determined whether his family would have enough to eat. At the end of the 19th century, a concerted effort was made to re-establish the breed from the remaining lines in the Munster region. The fortunate outcome of the companion phase in the Small Munsterlander history was its excellent in-home personality.
Character:
These are lovable and affectionate dogs that bond well with the family. There will be no problems whatsoever mixing them with other dogs and pets. The majority of them love and have great patience with children. Munsters will, however, act as watchdogs when necessary. They can be quite vocal, especially after having been left and love to bring you 'presents' on your return home, or alternatively greet you with your slippers or newspaper! They are brave, eager to work and have a very gentle nature, wanting to please at all times. They do however need owners who will spend a lot of time and give plenty affection to them.
Temperament:
Conformation:
All pigmentation should be black. The head should be sufficiently broad and rounded with no pronounced occiput or stop. The teeth should be well developed with a regular scissor bite. The eyes are intelligent, medium-sized and dark brown. The ears should be broad and set on high, lying flat and close to the head. The neck should be strong and muscular, slightly arched and join onto well laidback shoulders. The back should be short-coupled, firm and strong, slightly higher at the shoulders, sloping smoothly to the croup and tail, with wellspring ribs. The front legs should be straight with strong pasterns and the hind legs well muscled with well let down hocks. Dewclaws should be removed. The feet should be tight, moderately round and well knuckled with dense hair between the toes. The tail should be well set on in line with the back and well feathered. It should be carried horizontally or curved slightly upwards. Docking of the tip of the tail is optional.
The Large Munsterlanders are well-proportioned dogs that carry themselves with pride. They are well balanced and have a free and easy, long striding movement with drive. Their coats are flowing and dense with a good deal of feathering on the legs and tail. Their smaller relations are more setter-like, but in all other aspects, apart from colouration, are similar in appearance.
Colour:
Training:
Care:
Munsterlanders require little in the way of grooming, a weekly comb and brush over will suffice. Their feathering on the ears, front and hind legs and tail will need the occasional tidying up. Excess hair between the pads on the feet should be trimmed when necessary. They are dogs who enjoy all types of weather so be warned, mud and dirt can be a problem!
As puppies ensure the breeder's diet sheet is followed and do not be tempted to spoil them as they will become finicky eaters. Little and often is the key for successful feeding of Munsterlanders.
Munsterlanders are primarily field sports dogs but will adapt quite readily to family life as long as they are given plenty of exercise. They love water therefore care must be taken to ensure their safety when they are running loose. They make super companions for active people, being content either to work or play.
Health:
There are very little health problems in this breed and the breed club's insistence on screening for hereditary cataracts suggest the ailment is well controlled. Although there are incidents of hip dysplasia, the x-ray scores are quite low and therefore very promising. However caution should be taken when exercising this breed. The breed is not prone to any other disorders. The Small Munsterland can live to 13 or 14 years of age and 8 puppies is the average size of  their litter but they have been known to have 14 to 17.
You may also like:















Advice on choosing your breed »
Find an animal shelter or rescue home where a Small Munsterlander is waiting for a new home »
The following grid gives a fast track review, which covers all breeds. You can apply it to help you decide if a Small Munsterlander is suitable for you, the environment where you live, your personality and your lifestyle. On the grid, 1= strongly disagree, and 5= strongly agree. For example, if you are looking for a dog to make a good walking companion, look down the list under 'Activities', and you will see that Small Munsterlander have lots of energy and are strong walkers, scoring 5. If you want a dog that is good for country living, look under 'Environment' and you will see that Small Munsterlander are suited to country living, scoring 5. You might like to save or print off this section and keep it for reference while you check some other breeds before making your final choice.
Be the first to rate this breed »
|
*PLEASE NOTE: All our breed profiles are general, and all dogs are individuals. Always talk to the breeders and meet the owners you are buying from. Try to meet the dog and its parents if it is a puppy in their home environment.