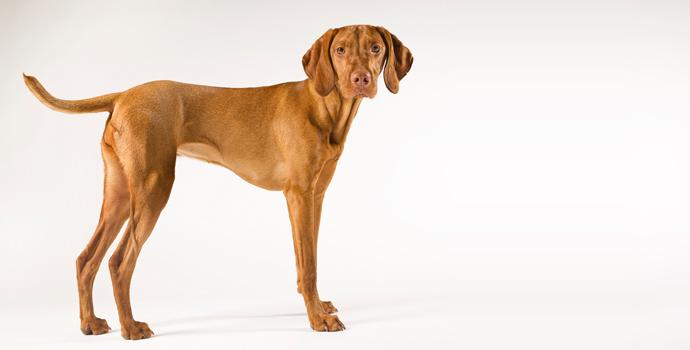 In my own words
Hello! Have you seen my humans? Oh there they are. Where are you going now? To the toilet?! That sounds great! Can I come?
I love my human. I follow him everywhere. And when we go to sleep I use him as a pillow. I like to know he's not too far away you see. We Vizslas are a loyal breed. My noble ancestor's can be traced back as far as the 8th century in Hungary! Where we were hunting dogs…
And I still like my exercise! Jogging, Hiking, Swimming, Frisbee… My human and I have a great time, because if I get bored I've been known to eat the odd shoe… I'll eat most anything! But my human keeps me pretty busy. On occasion I've even been known to sing along to the radio! My human says I have a beautiful voice.
My ideal owner(s)
Active
Sporty
Families and older children
Joggers and hikers
Experienced dog handlers
Home based
Country folk
What they say about me
The Hungarian Vizsla is one of 7 breeds that hunt, point and retrieve. These all-purpose gundogs have great stamina and are happy to work in all weathers. They have an excellent nose and are great swimmers. Vizslas are active, noble looking dogs that become very attached to their owners, although they are generally very friendly with other people and pets. While they are alert, they don't make the best watchdogs. You might need to watch your shoes around a Hungarian Vizsla! They are notorious chewers and can be a little mischievous. If they do not get the exercise an active dog needs, they will misbehave. They like to dig holes and steal food. Hungarian Vizslas are known for following their owner like a shadow, there is a Hungarian saying "If you own a Vizsla, he lives on your head." A Hungarian Vizsla will never leave you lonely. In fact he will probably accompany you to the bathroom and want to have his head on your knee when he falls asleep!
Is this Vizsla for you?
Test your knowledge about the Vizsla
Information essential about the Vizsla
Kennel Club Group:-
Sporting (AKC) Gundog (KC)
Size:-
Large: Weight Male 48 – 66lb (22-30kg) Female 40–55 lb (18–25 kg)
Height Male 21 – 25" (53 – 63cm) Female 21 – 24" (53–61 cm)
Popularity:
Vizslas have faced near-extinction both in the aftermath of WWII and when they lost popularity to English and German Shorthair Pointers in 1800s.
Breed History:
The history of these ancient hunting dogs can be traced back as far as the 8th century to the Carpathian Basin in Hungary, where they were used for hunting by a tribe called Magyar. Hungarian Vizslas were first mentioned in writing in the "Illustrated Vienna Chronicle" in 1357 by Carmelite Friars. Ideal for Hungary's agricultural lands, Vizslas were fast, careful and crafty with an excellent sense of smell. They have been used in the development of other breeds including the Weimaraner and German Shorthair Pointer breed. They were first imported to America in 1950 by Frank J. Tallman and Emmett A. Scanlan.
Character:
Vizslas make great family companions and are good with children. These affectionate dogs form strong bonds with their families and have been known to follow their owners like a shadow. They are playful, bordering on boisterous and love kisses and cuddles. They are energetic dogs known in the hunting world for their versatility where they hunt, point and retrieve.
Temperament:
They are bright and curious and respond extremely well to training. They are very vocal and will alert you to someone coming into your home, but are likely to give your visitors a warm welcome!
Conformation:
These aristocratic and handsome dogs have silky ears, which hang close to their cheeks and broad clean-cut heads. They have distinctive lines on the forehead and long, muscular necks according them an elegant but hardy look. They have a 'beard' and prominent 'eyebrows' and brown noses. Their golden brown coats come in two types: smooth or wire-haired. Both coat types are recognised as separate breeds. The smooth coat is short, straight, smooth and shiny. The wire coat is harsh, with an undercoat. Colouring is golden brown. The wirehaired vizsla is slightly heavier boned than the smooth haired vizsla. Their horizontal tails are usually docked halfway.
Colour:
Russet gold.
Training:
The Hungarian Vizsla is intelligent and eager to learn – so they are easy to train and they learn commands quickly. Training should be gentle as they are very sensitive dogs. They thrive on attention, so reward based methods are recommended. Without proper training from an early age, they can become rambunctious, excitable or timid. With steady, firm training the Hungarian Vizsla be easier to handle. They will also need lots and lots of exercise. Without it they can go a bit mad. They need to run for at least an hour a day, every day. They need and crave lots of mental stimulation. Games like fly ball and Frisbee and agility will keep them happy and healthy.
Care:
Smooth Haired Vizslas require minimum grooming, but they do shed. Occasional brushing to remove dead hairs will keep the coat healthy and glossy. The sleek hair is easy to groom. The wire coat Vizsla will need more regular brushing and hand plucking.
Health:
Hypothyroidism, a thyroid condition that can affect the coat and skin and progressive retinal atrophy. Prognosis for retinal atrophy is excellent if surgery is performed early on. Other less common health concerns include progressive retinal atrophy, dwarfism, Tricuspid valve dysplasia and persistent right aortic arch.
You may also like:















Advice on choosing your breed »
Find an animal shelter or rescue home where a Vizsla is waiting for a new home »
The following grid gives a fast track review which covers all breeds. You can apply it to help you decide if a Vizsla is suitable for you, the environment where you live, your personality and your lifestyle. On the grid, 1= strongly disagree, and 5= strongly agree. For example, if you are looking for a dog that likes to jog, look down the list under Activities, and you will see that Vizslas are athletic and love jogging, scoring 5. If you want a playful companion, look down the same list, and you will see that Vizslas love to fetch and hunt, and score 5. You might like to save or print off this section and keep it for reference while you check some other breeds before making your final choice.
Be the first to rate this breed »
|
*PLEASE NOTE: All our breed profiles are general, and all dogs are individuals. Always talk to the breeders and meet the owners you are buying from. Try to meet the dog and its parents if it is a puppy in their home environment.