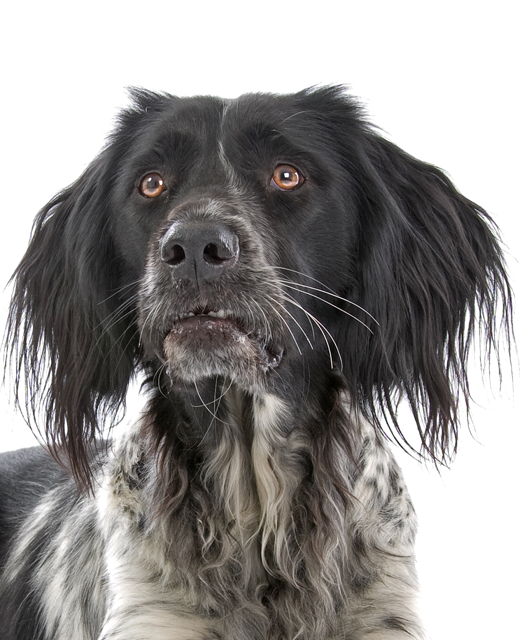 In my own words
Ah I'm so glad your home! Look, I brought you your slippers. Isn't that nice? I really missed you so I brought your newspaper too! I'm sorry if it's a bit soggy but I can't help bringing you things. I'm a hunting dog you see, my kind tracks and recovers game birds all the time you know. I'm still a working dog but I am happy to be at home with my family.
Do you reckon we could go out for a walk? Shall I go get my lead? Could we go somewhere with water? I absolutely love swimming, don't you? My favourite thing to do is shake all the mud off myself when I get out. You never seem too impressed but you should give it a try, it's really fun! I'll see if I can find you a present while we're out, just to show you how much I love you! Now let me just go get you that bird I found outside...
My ideal owner(s)
Families
People who like long walks
People who like short runs
Active, outdoorsy types
People who like country pursuits
What they say about me
Elegant and practical
Versatile
Proud
Affectionate
Please read on, to find out more about me, and whether I will be someone you can be happy with for the next 15 years, or even longer!
Is this Large Munsterlander for you?
Test your knowledge about the Large Munsterlander
Information essential about the Large Munsterlander
Kennel Club Group:
Gun Dog
Category:
Munsterlanders are multi-purpose gundogs, also being used in field trials and in the show-ring. They have fantastic staying power and work well on both land and in water.
Size:
Large: Weight approximately 66 lb (30 kg)
Height Male 24 – 26" (60 – 65 cm) Female 2 – 25" (58 – 63 cm)
Popularity:
Breed History:
The Large Munsterlander is originally from the Münster region in Germany. It is one of several continental breeds of versatile hunting dogs. Although the breed is one of the last of the German breeds to gain official representation by a separate breed club, the Large Munsterlander was recognised as a colour variant of the German Longhaired Pointer prior to that time. The breed gained official recognition in the Munsterland of northwestern Germany in the early 1900s but the forerunner of the modern Large Munsterlander has been seen in artist's representations of hunting scenes as far back as the Middle Ages.  This breed was introduced to North America in 1966 by Kurt von Kleist.
In the latter part of the 19th century, interest was growing in individual breeds so the different types were separated. When the German Long-Haired Pointer Club drew up its standards, for some reason, the only colour allowed was liver and white. Litters with all colourations were produced and the black and white puppies, many with excellent blood lines, were given away to farmers and hunters from the Munster area in Germany. Colour did not matter to them and, so these puppies were bred, possibly bringing in other breeds, e.g. spaniel or setter types, until in 1919 the Large Munsterlander was given recognition in his own right to differentiate him from the smaller version.
Character:
This field dog is calm and gentle with children and well adjusted to family life. They are loyal, affectionate and trustworthy. This breed is versatile making it a reliable companion for all facets of hunting. A recent comparison of the scores of 82 Large Munsterlanders with 104 other versatile breeds entered in North American Versatile Hunting Dog Association (NAVHDA) tests showed that the Large Munsterlander is a versatile dog that on average works more closely and is more responsive to its handler than other breeds, however it's pointing instinct matures later. This breed co-operates more than other breeds and has excellent concentration when tracking and recovering crippled game birds. During search for game, most dogs range from 50 to 150 yards (46 to 140 m0 depending on cover.
Temperament:
The Munsterlander is loyal and affectionate. It loves to work and be close to its master. They are good and patient with children but can get boisterous when excited. The Munsterlander requires dedicated training but are willing to please and quick to learn. They bond well with their family and have no problems mixing with other dogs and pets. When necessary this breed will act as a watchdog and can be quite vocal, often bringing their owner presents when they return home. They are eager to work, brave and have a gentle nature but they do need a lot of time and attention from their owner.
Conformation:
The Large Munsterlander is athletic, intelligent, noble and elegant in appearance. Its body should be the same length as its height at the withers. The dog is muscular without being bulky and its gait is fluid and elastic. The head and skull is well proportioned to the body and elongated. They have strong jaw muscles, a well formed black nose  and intelligent, medium sized dark brown eyes that are neither deep set or protruding. The ears are broad and set high, lying flat and close to the head. The neck is strong, muscular and slightly arched and the chest is wide with a good depth of brisket. Well muscled thighs, well turned stifles, hocks well let down. Dewclaws should be removed. Previously docking of the tip of the tail was optional. If left undocked it should be well set on, in line with the back, tapering towards the tip. It should be well feathered and carried horizontally or curved slightly upwards.
Coat:
The coat is black and white with hair of medium length. This dog has been bred for many decades for hunting and not show. Hence coat colour is highly variable, ranging from predominantly white to predominantly black. Markings occur as solid white patches, or ticked or roan regions.The head is usually predominantly black and the tip of the tail white, regardless of the distribution of black and white on the rest of the body. The coat is dense, but should be firm and sleek.
Colour:
The coat  of a Large Munsterlander can be black or blue roan with white. The Small Munsterlander's coat comes in brown (liver) and white
Training:
Both Large and Small Munsterlanders are relatively easy to train and are eager to please their owner. They can be dominant so need consistent and firm handling to prevent them becoming unmanageable
Care:
They have a tendency to become picky eaters if spoiled so it is recommended to follow the breeder's diet sheet. They benefit from eating a little and often. They do not enjoy being left alone for long periods of time. The Munsterlander requires little grooming, with a weekly comb and brush being sufficient. The feathered ears, front and hind legs and tail may occasionally need tidying up. Excess hair between the pads of the feet should be trimmed. These dogs enjoy all types of weather so be aware that they can get very muddy and dirty.
Health:
The lifespan of a healthy individual is between 12 and 13 years, however, some live for as long as 15 years. If you buy from a reputable, responsible breeder, health problems should not occur. This breed has few reported common ailments but take care whilst exercising a young puppy as they can develop hip dysplasia. This breed is not prone to any other disorders.
Exercise:
The Munsterlander is primarily a field sports dog but can adapt to family life provided they are given plenty of exercise. They love water but care must be taken to ensure their safety when running loose. They are good companions for active people and are content to either work or play.
You may also like:















Advice on choosing your breed »
Find an animal shelter or rescue home where a Large Munsterlander is waiting for a new home »
The following grid gives a fast track review which covers all breeds. You can apply it to help you decide if a Large Munsterlander is suitable for you, the environment where you live, your personality and your lifestyle. On the grid, 1= strongly disagree, and 5= strongly agree. For example, if you are looking for a dog that likes to swim, look down the list under Activities, and you will see that Munsterlanders love water and are strong swimmers, scoring 5. If you want a playful companion, look down the same list, and you will see that Munsterlanders love to fetch and hunt, and score 5. You might like to save or print off this section and keep it for reference while you check some other breeds before making your final choice.
Be the first to rate this breed »
|
*PLEASE NOTE: All our breed profiles are general, and all dogs are individuals. Always talk to the breeders and meet the owners you are buying from. Try to meet the dog and its parents if it is a puppy in their home environment.