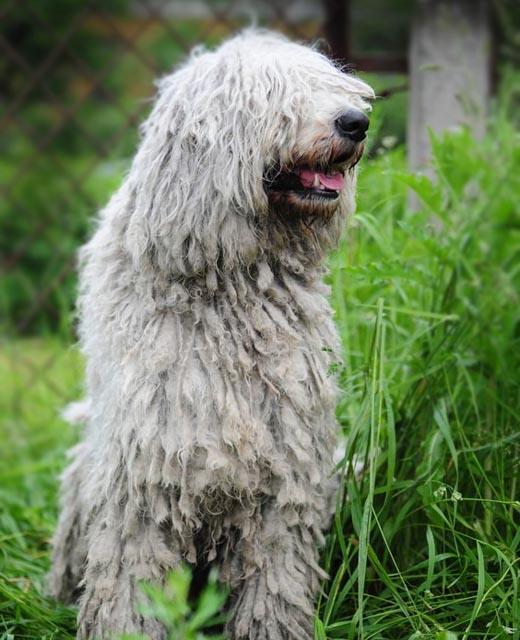 In my own words
A guard dog through and through'
I'm a very strong protector. Originally I was bred to be a flock guardian and contended with formidable adversaries such as bears and wolves. Battling such beasts has left me with a boosted confidence. However, this confidence needs to be kept in check once in a while. My owner's a strong-leader. He has to be in order for me to be a good family dog. My obedience training was essential.
My ideal owner(s)
Firm, alpha leaders
Families with older children
Hikers and long-walk aficionados
Rural or suburban owners with a fenced-in yard
What they say about me
Devoted to our families,
Wary of strangers
Highly intelligent
Independent dog
Please read on, to find out more about me, and whether I will be someone you can be happy with for the next 12 years, or even longer
Is this Komondor for you?
Test your knowledge about the Komondor
Information essential about the Komondor
Kennel Club Group:
Breed Group: Working
KC Group: pastoral Category:
Size: large
Male: 27.5; Female 25.5 inches
Popularity:
Popularity: The Komondor is a large, athletic breed with a commanding presence that makes an excellent family companion
Breed History:
Komondors, descendants from Tibetan dogs, hail from Hungary where they protected flocks from the dangers of wolf attacks. There was also a possibility that they come from the Cumans (a Turkish nomadic people) in Cumania where Komondor bones have been found. Indeed, "Komondor" means "dog of the Cumans." They were seen first in dog shows in the 1920s and accepted by the American Kennel Club in 1937. As of 2011, they rank 154th on the American Kennel Club Dog Registry.
Character:
The Komondor is self assured, protective, and pretty serious. This beautiful dog likes people, is very affectionate, but is wary towards strangers. However, he will warm up quickly if the person poses no threat. This assertive breed is great for guarding flock
Komondors are strong protectors. They were bred to be flock guardians and contended with formidable adversaries such as bears and wolves. They are very confident dogs and need a strong leader in order to be a good family dog. Obedience training is a must and socializing them early on is imperative to avoid human or dog aggression when grown
Temperament:
The Komondor can be very protective, but calm in the house if he senses no danger. Does very well in obedience, and is willing to please his owner. Due to his protective nature, this breed should be well socialized at an early age. Capable of being highly devoted member of his family, the Komondor is loving and loyal. This breed is naturally a great guardian, which makes him good for guard dog work, however his guarding instincts can turn into aggressiveness, as he tends to protect everything he believes is his.
Conformation:
Komondors were bred to be large, muscular guardians of sheep and later cattle, mostly without human supervision. Their most notable feature, their white, corded coat, was developed to act as a barrier against bear and wolf teeth and claws and to blend in with the sheep they guarded. Their fur also helps protect them against changes in the weather and Komondors are actually comfortable in both low and high temperatures. Komondors stand at about 25 and a half to 30 inches and their body is slightly longer than their height at the withers. Their eyes are almond shaped and must be brown to be considered for showing. They have wide nostrils and a wide, short muzzle. They are big-boned and rugged - true outdoorsmen.
Colour:
The Komondor has a grayish skin tone with a long and soft white coat that should always be corded. The coat of this breed helped him, in earlier years, to blend in with sheep while on lookout. The coat of the Komondor should always be heavy, and be natural.
Training:
The Komondor is very intelligent, but is also wilful and is independent, so he should require obedience training as an early age. As a puppy, he should be experienced to new sights and surroundings to avoid aggression later.
Care:
The Komondor has very sensitive skin when it comes to certain flea and tick preventative, however it must regularly be treated as the coat is thick and corded making it difficult to remove them. Long hair can grow in between the pads of the feet, so this must be trimmed.
Washing with the proper shampoo is recommended, as dipping the dogs can discolour their white fur. Their messy-looking corded coat is actually very neat and should be separated carefully weekly. They do need frequent bathing (expect a long drying time).
The Komondor is not recommended for apartment life or city life. He does best in a country type environment. However, will do well in a home if given regular opportunities to run in a fenced yard. Komondors can also be very lazy, making exercise mainly his responsibility.
Health:
Komondors are relatively healthy dogs with skin allergies, hip dysplasia and bloat as their main health concerns. Komondors with skin allergies or parasites are a bit tougher to treat than other breeds because of their massive coat. Hip dysplasia is common and manageable in many big dogs .
Healthy Komondors live approximately 10 to 12 years.
You may also like:















Advice on choosing your breed »
Find an animal shelter or rescue home where a Komondor is waiting for a new home »
The following grid gives a fast track review, which covers all breeds. You can apply it to help you decide if a Komondor is suitable for you, the environment where you live, your personality and your lifestyle. On the grid, 1= strongly disagree, and 5= strongly agree. For example, if you are looking for a dog to make a good walking companion, look down the list under Activities, and you will see that Komondors have lots of energy and are strong walkers, scoring 5. If you want a good guard dog, look under 'Role and Suitability' again and you will see that Komondors are a very protective breed scoring 5. You might like to save or print off this section and keep it for reference while you check some other breeds before making your final choice.
Be the first to rate this breed »
|
*PLEASE NOTE: All our breed profiles are general, and all dogs are individuals. Always talk to the breeders and meet the owners you are buying from. Try to meet the dog and its parents if it is a puppy in their home environment.