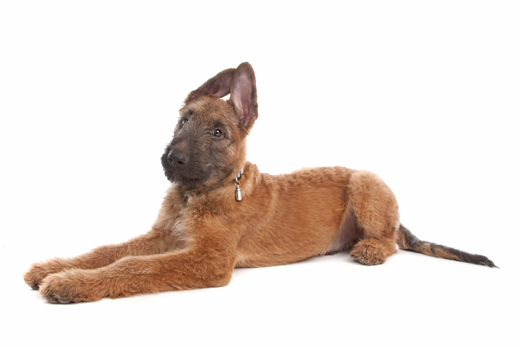 In my own words
Feel like you need some extra protection? I can take care of that. I pride myself on being able to take care of you, your family and your home. It's what I'm good at! You don't need to worry about intruders with me around. Haven't you heard? I'm an excellent watch and guard dog! When you've got me in your family, it's like having your own personal bodyguard.
It's not all business though; as much as I love to work I'm a just big ball of love really. You're my best friend in the whole world and I really enjoy your company, especially when we're out and about. I like nothing better than running around with you; sometimes I feel like I could run forever! I hope you remembered your running shoes…
My ideal owner(s)
People who are active
People who like long walks
Experienced dog owners
People who live in the country
Single people
Couples
Families with older children
What they say about me
Active and alert
Intelligent
Suspicious of strangers
Excellent guard dog
Loyal
Obedient
Please read on to find out more about me, and whether I'll be someone you'll be happy to live with for the next 12-14 years!
Is this Belgian Shepherd Laekenois for you?
Test your knowledge about the Belgian Shepherd Laekenois
Information essential about the Belgian Shepherd Laekenois
Kennel Club Group:
Pastoral
Size:
Medium: Weight Male 60.5 - 63 lbs (27.5 – 28.5 kg) Female 45 – 51 lbs (20 – 23 kg)
Height Male 24 – 26" (61 - 66 cm) Females 22 – 24" (56 - 61 cm)
Popularity:
Out of the four varieties of Belgian sheepdogs, the Laekenois is the rarest. Laekenois are most often used as working dogs in Belgium, but are not popular pets and are not well known outside of the country
Breed History:
Originating in the Belgian city of Laeken, the Belgian Shepherd Laekenois was bred to be a superb sheepdog and the breed was put to work herding as well as guarding linen fields where valuable textiles were laid in the sun and rain. Their wiry, waterproof coats made the Laekenois the perfect breed ideal for outdoor work, no matter what the weather may be.  The Laekenois is one of four breeds of Belgian Shepherd, which are all considered essentially same, with the only real difference being the coat types. The breeds are so similar that they were considered as one breed until the 1890s, when a Professor of the Belgian School of Veterinary Sciences recorded the differences between the four sheepdog types and set breed standards for them, suggesting that they be bred separately and not mixed. However, many countries still recognise the Belgian sheepdogs as one breed, and the Laekenois is the only Belgian Shepherd not to be recognised at all by the AKC in the United States of America.
The Laekenois excels at agility, tracking and chasing which means that the breed is more often used for work than as a family pet. While they may not be used for herding sheep and keeping watch over linens any more, their alertness, attentiveness and protectiveness are put to good use by the Belgian army and police
Character:
Loyal and protective, your Belgian Laekenois lives to serve you! Laekenois love human company and thrive on being around their owner, but tend to only bond with one member of the family. Your Laekenois wants you to be safe and secure and they will not only be sure to protect you, they'll also keep watch over your family and home. However, don't think that your Laekenois will be happy as a kennel dog that lives outside with the sole purpose of keeping an eye out for intruders. Companionship is very important to the breed and they should be made to feel as though they are part of the family. Laekenois are wonderfully energetic dogs and suit owners with active lifestyles who can give them plenty of exercise. Herding is in the Laekenois' genetic makeup and they can show herding behaviour towards people. This includes circling, chasing or nipping at heels, so it's important to train them not do this early on in their lives
Temperament:
The Belgian Laekenois' protective nature means they tend to be wary of strangers, so don't expect them to greet guests with a cheerful welcome. They'll keep a watchful eye over any visitors. Your Laekenois is energetic and highly intelligent, so he needs to be both mentally and physically stimulated in order to keep him happy and content. Give him lots of attention and exercise, or he'll find his own amusement through destructive behaviour. Though Laekenois will get on well with children they have been raised around, rough play, tug of war and chasing games should not be indulged in as it encourages herding behaviour. The breed can show dominance over other dogs, but generally gets on well with canines it has grown up with, however it is not usually a good idea to have a Laekenois and non-canine pet in the same household. As the Belgian Laekenois breed can be prone to shyness or aggressiveness, it is vital that your Laekenois is socialised with other people and animals from an early age.
Conformation:
The Belgian Shepherd Laekenois is a medium sized dog with a square shaped, muscular body and long straight legs with cat-like feet. The Laekenois has a deep chest and the tail is thick at the base and reaches to the hock. The muzzle should be slightly pointed and both the muzzle and skull should be approximately the same length. The medium, almond shaped eyes should be dark brown and the ears erect, triangular and highly set. The nose and tight lips are black. The Laekenois most distinctive feature is his coat, which sets him apart from the three other Belgian Shepherd breeds. Wiry and shaggy, the short to medium length coat has a rough appearance and has a waterproof coating.  The woolly look of his coat is further added to be the fringing around his head and muzzle, and his dense, bushy tail.
Colour:
Your Belgian Laekenois could be a fawn or mahogany colour, with a black overlap and black shading on his muzzle and tail.
Training:
The Belgian Shepherd Laekenois is a breed which is prone to dominance and therefore needs training and socialisation from as early an age as possible to prevent aggressive or shy behaviour. It is important that you are confident and firm with your Laekenois so he knows that you are in charge and have authority over him. For this reason, Laekenois are best suited to an experienced dog owner who can handle their stubborn streak and will be consistent in their training methods. Your Laekenois will flat out refuse to partake in training if you are overbearing, impatient or too harsh, so be firm but fair and reward good behaviour instead of scolding the wrong behaviour. Laekenois react well to positive reinforcement.
Care:
The Belgian Laekenois has an unusual wiry coat, which needs a small amount of special care. The Laekenois' coat should be trimmed twice a year, but never closely clipped as this will ruin the coat for several years. A daily comb or brush will prevent the scruffy, rough-looking coat from becoming too tangled and prevent matting. Bathing should only take place when absolutely necessary as it can damage the coat's waterproof coating. When possible, consider spot cleaning your Belgian Laekenois if he gets dirty instead of bathing him, as it's much better for his coat.
Health:
The Belgian Laekenois' average lifespan is 12-14 years. The Laekenois is a hardy and resilient breed with no major health concerns. There are, however a few small health issues to be aware of when you have a Laekenois. Skin allergies, eye problems, excessive shyness, excessive aggressiveness and hip dysplasia and elbow dysplasia have all been noted within the breed, as well as sensitivity to anaesthesia. Epilepsy can occur in the breed, but it is not common due to careful breeders who have bred this genetic issue out. Always buy your Belgian Laekenois from a reputable breeder in order to increase your Laekenois' chances of having a long and happy life and be sure to see both puppy's parents and their paperwork.
You may also like:















Advice on choosing your breed »
Find an animal shelter or rescue home where a Belgian Shepherd Laekenois is waiting for a new home »
The following grid gives a fast track review which covers all breeds. You can apply it to help you decide if a Belgian Shepherd Laekenois is suitable for you, the environment where you live, your personality and your lifestyle. On the grid, 1 = strongly disagree, and 5 = strongly agree. For example, if you are looking for a dog that is suitable for a farm, look down the list under 'environment' and you will see that Belgian Laekenois are perfect for country living, scoring 5. If you are looking for a dog that is friendly with strangers look under 'behaviour' and you'll see that a Laekenois is not ideal, only scoring 1. You might like to save or print off this section and keep it for reference while you check some other breeds before making your choice.
Be the first to rate this breed »
|
*PLEASE NOTE: All our breed profiles are general, and all dogs are individuals. Always talk to the breeders and meet the owners you are buying from. Try to meet the dog and its parents if it is a puppy in their home environment.