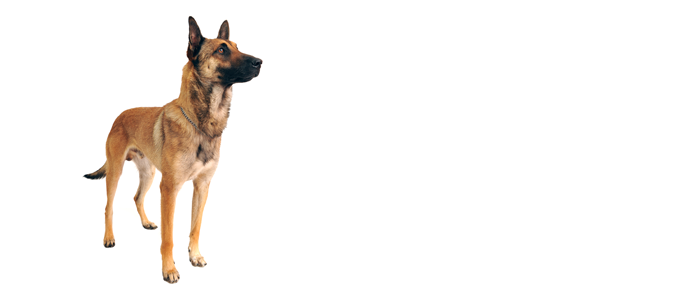 In my own words
Come on! Let's go! It's time to get up and go for a walk! You don't want to sit around here all day, do you? There's so much to do. Let's start off with a good hour and a half of exercise in the park and then see where the day takes us. I don't want to waste another minute sitting around doing nothing – how dull. I might even let you train me if you like? Anything to keep me challenged and stimulated.
You could say I'm a bit of a workaholic, but I can't help it, it's in my blood. I thought about joining the bomb squad like my brothers and sisters, but here I am as a family pet which is great. I still have a job to do though – protecting the family is very important to me and I'm very happy here, just as long as I get enough exercise and have plenty of things to do. So, are you ready to go for that walk now?
My ideal owner(s)
People who are active
People who like long walks
Experienced dog owners
People who don't have non-canine pets
People who live in the country
Single people
Couples
Families with older children
What they say about me
Active and alert
Intelligent
Suspicious of strangers
Excellent guard dog
Loyal
Obedient
Please read on to find out more about me, and whether I'll be someone you'll be happy to live with for the next 12 to 14 years!
Is this Belgian Malinois for you?
Test your knowledge about the Belgian Malinois
Information essential about the Belgian Shepherd Malinois
Kennel Club Group:
Pastoral
Size:
Medium: Weight Male 65 – 75 lb (29 – 34 kg) Female 55 – 65 lb (24 – 29 kg)
Height Male 24 – 26" (61 – 66 cm) Female 22 – 24" (56 – 61 cm)
Popularity:
Despite being popular in their home country of Belgium, where they are commonly used as police dogs as well as household pets, Belgian Malinois are a considered a rare breed elsewhere. For this reason, it is not a very popular breed outside of Belgium.
Breed History:
One of four varieties of Belgian Sheepdog, the Malinois is named after its place of origin, Malines in Belgium, where it was bred to herd and guard sheep. While the four Belgian shepherd breeds are anatomically the same, they all have different types of coat which set them apart from each other. The Malinois has a short coat which can be red, fawn or grey.
Due to their similarity, Belgian sheepdogs used to be classed as the same breed and were interbred. However, in the 1890s a professor of the Belgian School of Veterinary Sciences recorded standards for the various types of Belgian sheepdogs and advised that they should be bred separately. Following this, the Malinois was the first of the Belgian sheepdogs to establish a type.
Malinois are the workaholics of the dog world – they love to have a job to do! They were bred to herd and watch over flocks of sheep, but in the modern world they are commonly seen working as police and guard dogs. They excel at police work due to their high intelligence, obedience and agility skill and work in narcotics, protection, search and rescue and even bomb detection.
Character:
Your Belgian Malinois is incredibly smart and, with the right owner, a wonderfully obedient dog. Originally bred as shepherding dogs, Malinois have a strong instinct to protect and are always alert and watchful of their surroundings. This makes them wonderful guard dogs and they are often seen working as police dogs in Belgium. However, their loyal nature also makes them fantastic family pets, particularly for families who are looking for a dog which will provide some security. Even as a pet, your Malinois will still want to be active and challenged; keep your Malinois mentally as well as physically stimulated or they can become destructive as a way of entertaining themselves. Plenty of daily exercise, training and good company will prevent this unwanted behaviour. As a natural herding dog, your Malinois may show behaviour such as circling, chasing or nipping at heels. This is an instinctive trait which has been bred into them in order to make them excellent as herding sheep and it's important to train them not do this to people from a young age
Temperament:
If you are looking for a happy go lucky pup that will make friends with everyone and their neighbour, the Malinois isn't going to be a good fit for you. Your Malinois loves you dearly, but he doesn't have much time for anyone else. He'll usually only bond with one member of the family and will be wary of strangers – including any visitors you may have. The Belgian Shepherd Malinois excels at hard work and is loyal, attentive, alert and protective. They can make wonderful pets, but they need a confident and experienced owner to handle them and bring out the best in them. Don't panic if your Malinois seems to have forgotten all his training at around nine months old – the breed enters a delinquent stage at this time and will be testing your boundaries. Just be patient and start from the beginning. Never encourage aggressive behaviour in your Malinois through rough play, tug of war or chasing, and be sure not to encourage guarding behaviour as it can lead to over protectiveness. Your Malinois will be happiest with an owner who can show him who is boss and has an air of authority at all times, as Malinois can show dominance over timid owners. Due to their tendency to show dominance, Malinois are not recommended for households with non-canine pets, though they will usually get on well with other dogs providing they have been raised with them.
Conformation:
A medium to large sized dog, the Malinois has a square shaped, muscular body with a deep chest and strong tail. Long, straight legs lead to cat-like feet.  The Malinois' muzzle should be slightly pointed and both the muzzle and skull should be approximately the same length. The length and width of the skull should measure the same distance. The medium, almond shaped eyes should be brown and the ears erect and triangular. The nose and tight lips, which cover a scissor bite, are black. Malinois are blessed with a weather resistant double coat which is short and straight except for around the neck where it is slightly longer.
Colour:
The Malinois' coat comes in anything from fawn to mahogany or even black, with black tips on the hairs. The mask and ears should be black, while the chest, tail and back end are a paler fawn shade
Training:
Training your Malinois from an early age is vital and intense socialisation should be introduced from birth in order to prevent shyness or even aggressiveness. As Belgian Malinois can show dominance, they need a master to be thorough, consistent and firm in their training, whilst showing respect and never being harsh. Heavy handed training techniques will make your Malinois uncooperative, so always use reward based training and positive reinforcement and remember to be patient.
Care:
The Belgian Malinois sheds lightly all year long, and also sheds heavily twice a year, which makes regular brushing an absolute must. Be prepared to find the time to give your Malinois a good brush a few times each week in order to prevent mattes forming in his double coat. Despite the need for regular brushing, the Malinois is not high maintenance when it comes to grooming. Their coat doesn't need clipping and they should only be bathed when absolutely necessary. The Malinois coat repels a lot of dirt due to its waterproof coating, which frequent bathing can actually damage.
Health:
A resilient and hardy breed, the Belgian Malinois has no major health concerns and the average Malinois will live for 12-14 years. However, there are some minor health issues to keep an eye out for with your Malinois including eye problems, skin allergies, excessiveness shyness or aggressiveness and sometimes hip and elbow dysplasia. Cancer, thyroid concerns and epilepsy have also been witnessed in the breed, as well as sensitivity to anaesthesia. Increase your chances of buying a happy, healthy dog by purchasing from a reputable breeder.
You may also like:














Advice on choosing your breed »
Find an animal shelter or rescue home where a Belgian Shepherd Malinois is waiting for a new home »
The following grid gives a fast track review which covers all breeds. You can apply it to help you decide if a Belgian Malinois is suitable for you, the environment where you live, your personality and your lifestyle. On the grid, 1 = strongly disagree, and 5 = strongly agree. For example, if you are looking for a dog that is suitable for an experienced owner, look down the list under 'training and obedience' and you will see that Belgian Malinois are perfect for people with a lot of dog experience, scoring 5. If you are looking for a dog that would make a good watch dog, look under 'role and suitability' and you'll see a Malinois would be an excellent choice, also scoring 5. You might like to save or print off this section and keep it for reference while you check some other breeds before making your choice.
Be the first to rate this breed »
|
*PLEASE NOTE: All our breed profiles are general, and all dogs are individuals. Always talk to the breeders and meet the owners you are buying from. Try to meet the dog and its parents if it is a puppy in their home environment.