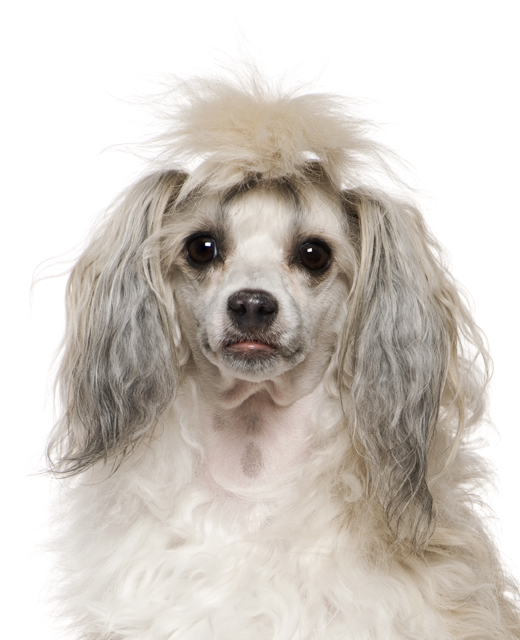 In my own words
I might be unusual looking, but there's nothing strange about little old me! Sure, I don't have any hair on my body (although my powder puff brother has plenty), but I'm really no different to any other happy pup! I love your companionship and treasure your friendship. I want to spend every minute of the day right next to you, no matter what. I promise to stay loyal to you in return for plenty of cuddles, snuggles and playtime!
Whatever you fancy doing, I'm happy doing it with you. I absolutely adore your company, so I hope you don't mind if I hang around with you while you're having a bath, putting away the groceries, having dinner or just watching a DVD. I'm not that fussed about going outside today if you don't feel like going for a walk? I know I'm a bit better behaved after our daily strolls, but you know I can take a day of lazing about the house with no trouble.
If you would like to do something though, we could learn some new tricks together? That's always such great fun! Just don't forget the treats…ok?
My ideal owner(s)
Retirees and senior citizens
Couch potatoes
City folk
Families with children
What they say about me
Easy to train
Entertaining
Distinctive appearance
Lovable
Constant companion
Intelligent
Please read on to find out more about me, and whether I'll be someone you'll be happy to live with for the next 12 years!
Is this Chinese Crested for you?
Test your knowledge about the Chinese Crested
Information essential about the Chinese Crested
Kennel Club Group:
Toy
Size:
Small: Weight Male 5 – 12 lb (2 – 5.5 kg) Female 5 – 10 lb (2 – 4.5 kg)
Height Male 11 – 13" (28 – 33 cm) Female 9 – 12" (23 – 30 cm)
Popularity:
Though the Chinese Crested is still considered to be a fairly rare breed, it is a popular dog among show enthusiasts and the most popular of all the hairless breeds. However, the Chinese Crested is not as popular among those looking for a family pet.
Breed History:
Originating from Africa, the Chinese Crested was originally known as the African Hairless Terrier and was treasured by sailors and Chinese merchants, who took the breed on board their trading ships to hunt vermin. The Chinese bred the dogs to be smaller and renamed them Chinese Crested and traded them throughout Central America, South America and Africa.
It is thought that Native America Tribes, including the Aztecs, prized the Chinese Crested and used them as bed warmers, as well as for food.
The Chinese Crested is often shown in rare breed shows in North America and Europe, where it less common. It was first exhibited in America in 1885, but due to the small number of Chinese Crested dogs and the lack of a national club, the American Kennel Club dropped their eligibility to be shown in 1965. It was some years later, in 1970, that the first breed club was established and it wasn't until 1991 that the breed was officially recognised by the American Kennel Club.
Character:
An affectionate and loving breed that loves to play with and entertain his family, the Chinese Crested is a wonderful dog for families with children. Your Chinese Crested has an affinity with children which makes him the most popular of the hairless breeds, though still rare. If you want a friendly, charming and happy dog who knows its boundaries and respects your family, then the Chinese crested could well be for you. As well as being a wonderful pet for children, your Chinese Crested also gets on well with other pets. When he's not following you around the house and keeping you company at every opportunity, your Chinese Crested loves to climb and dig holes. He's adept at learning new tricks too, and picks up training very easily.
Temperament:
Your Chinese Crested makes the perfect family pet. Gentle yet playful, your Chinese Crested is a well-balanced dog that is incredibly intelligent and loves to learn new tricks. He's completely devoted to his family and loves them deeply, wanting nothing more out of life than being close to his owners. Your Chinese Crested is prone to shyness and can become timid around strangers if allowed, so make sure that you socialise him well throughout both puppyhood and adulthood in order to have a well-adjusted, sociable Chinese Crested. Despite being a small dog, your Chinese Crested is not a yappy pup. In fact, he rarely barks or nips and is usually polite, clean and quiet.
Conformation:
There are two varieties of Chinese Crested, the hairless and the powder puff. The hairless variety is, as the name suggests, hairless, except for on its feet, head and tail. The powder puff is completely covered in a long, soft coat. Both hairless and powder puff Chinese crested can be born in the same litter. The Chinese Crested has a light, elegant frame with a sprightly gait. The head is wedge shaped and features a long muzzle with a slight stop, large erect ears and widely set, almond shaped eyes. The eyes and nose can be dark or light coloured depending on the shade of the coat. The tail is thin and tapered and hangs low.
Colour:
The Chinese Crested skin and coat can come in any shade and can be solid mixed or spotted.
Training:
Smart, alert and agile, your Chinese Crested loves to learn new tricks and excels in obedience training. His intelligence, teamed with his eagerness to please his owners, means that training is a cinch with your Chinese Crested. Your Chinese Crested responds well to positive reinforcement and reward based training, while severe or harsh training methods can make him stressed and hinder the training process. It is very important not to baby your Chinese crested as this can lead to Small Dog Syndrome, where your Chinese Crested believes he is in charge of the family and is the pack leader. This is very stressful for your Chinese Crested and can lead to many unwanted behaviours, including growling, snapping and guarding objects.
Care:
Your Chinese Crested is a very clean dog with virtually no odour. The powder puff variety needs daily brushing in order to keep its coat silky and matte free, and regular trimming will also be required. The hairless variety obviously needs very little brushing – simply a little around the head, feet and tail – however, skincare is needed. An occasional rub down with veterinarian recommended oil will prevent the skin becoming dry or irritated. It's also important to apply sunscreen to your hairless Chinese Crested in order to prevent sunburn
Health:
The Chinese Crested is prone to a number of health issues, including tooth decay, hypothermia and skin irritations, the latter of which is particularly prevalent in the hairless Chinese Crested. The hairless variety is prone to sunburn, as well as tooth loss and decay due to having ancient type, forward pointing canine teeth called tusks. Many Chinese Crested are allergic to wool and lanolin. Each hairless dog carries one gene for hairless and one gene for hair, while two hairless genes are fatal. The Chinese Crested will over eat if given the chance and gains weight easily, so it is vital that he is not over fed as obesity will shorten their lifespan. The average Chinese Crested lives for 10 to 12 years.
You may also like:














Advice on choosing your breed »
Find an animal shelter or rescue home where a Chinese Crested is waiting for a new home »
The following grid gives a fast track review which covers all breeds. You can apply it to help you decide if a Chinese Crested is suitable for you, the environment where you live, your personality and your lifestyle. On the grid, 1 = strongly disagree, and 5 = strongly agree. For example, if you are looking for a dog that is suitable for a city apartment, look down the list under 'environment' and you will see that Chinese Cresteds are perfect for urban living, scoring 5. If you are looking for a dog that you can teach tricks, look under 'activities' and you'll see a Chinese Crested would be an excellent choice and loves to learn new tricks, also scoring 5. You might like to save or print off this section and keep it for reference while you check some other breeds before making your choice.
Be the first to rate this breed »
|
*PLEASE NOTE: All our breed profiles are general, and all dogs are individuals. Always talk to the breeders and meet the owners you are buying from. Try to meet the dog and its parents if it is a puppy in their home environment.