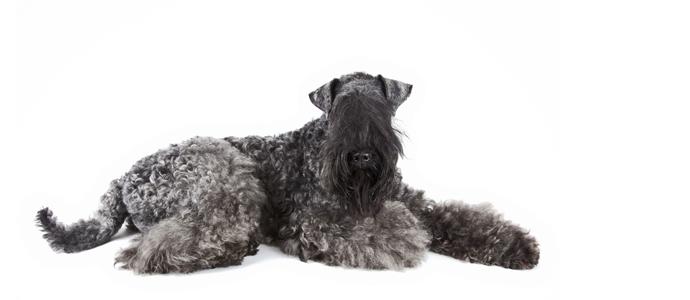 In my own words
So, what are we going to do today? You know I always need to have something to be getting on with – I really don't like sitting at home all day, I get so bored! Let's go out for a nice long walk, will you bring the ball so we can play fetch? Or we could do dome training; you've got a big bag of treats, haven't you? If you don't want to do anything right now then would you mind letting me into the garden? It's been at least a few hours since I did any digging and frankly, I miss it. It's my favourite thing to do after all! You don't care if I dig up those flower beds… do you?
My ideal owner(s)
People with an air of authority
Families with older children
Households without other pets
Active people
Couples without children
What they say about me
Comedian
Rowdy and boisterous
Protective
Loving
High spirited
Please read on to find out more about me, and whether I'll be someone you'll be happy to live with for the next 15 years!
Is this Kerry Blue Terrier for you?
Test your knowledge about the Kerry Blue Terrier
Information essential about the Kerry Blue Terrier
Kennel Club Group:
Terrier
Size:
Small: Weight Male 33 – 40 lbs (15 – 18 kg) Female 33 – 40 lbs (15 – 18 kg)
Height Male 18.5 – 20" (46 – 51cm) Female 17.5 – 19" (44 – 48cm)
Popularity:
The Kerry Blue Terrier is not a popular breed. Kerry Blue Terriers are considered unfashionable and are quite rare. Even after a Kerry Blue Terrier won Crufts in 2000, the breed didn't receive a boost in popularity.
Breed History:
Also known as the Irish Blue Terrier, the Kerry Blue Terrier originates from the County of Kerry in Ireland. The breed can be traced back to the 1700s when it was bred to hunt vermin such as rats, rabbits, badgers and otters.
Is it thought that the Kerry Blue Terrier is a descendent of the Portuguese Water Dog which attributes to the breed's distinctive wavy coat. However other experts suggest that the Kerry Blue Terrier could be derived from the Soft Coated Wheaten Terrier, Irish Wolfhounds or Irish Terriers.
While the Kerry Blue Terrier's original purpose was to be a rat catcher, it soon developed to be a multipurpose working dog. As well as controlling pests and rodents, the Kerry Blue Terrier would herd cattle and flocks of sheep and guard and protect livestock and their owners. The breed also became known as good companion dogs, making them something of a jack of all trades!
In the early 1900s the hard working Kerry Blue Terrier entered the show ring. The breed was first shown in 1916 and by the 1920s they enjoyed brief fame in the show ring as a popular choice of breed. In their native Ireland the Kerry Blue Terrier was left with a rugged, untrimmed coat. However, when the dog was shown in England it was trimmed as a terrier would be, giving rise to the look of the Kerry Blue Terrier which is known today.
Character:
Your Kerry Blue Terrier is a sporty and athletic dog who always likes to have something to do. The breed's history as a working dog means that he's in his element when there's a task at hand, whether it's going on a long walk, exploring a new area or playing with his owners. Your Kerry Blue Terrier is an enthusiastic go getter and will expect you to be the same way! Obedience and agility classes will give your Kerry Blue Terrier plenty of physical and mental stimulation. As well as going on adventures and enjoying playtime your Kerry Blue Terrier loves to dig, dig and dig some more. This goes back to his inbred rodent catching abilities, which required him to dig into burros underground. If you're precious with your flower beds you might find owning a Kerry Blue Terrier stressful on occasion. Many Kerry Blue Terrier owners say that their dogs have a humorous streak and a clownish attitude which always gets laughs. However, despite their high spirits the Kerry Blue Terrier does not get on well with other dogs and can be dog aggressive. It is therefore very important to socialise your Kerry Blue Terrier from a very early age and continue to do so throughout his life.
Temperament:
A fun loving, playful comedian, your Kerry Blue Terrier is full of life. The Kerry Blue Terrier is known for making people laugh and will suit an owner who appreciates his silly and comical ways. While your Kerry Blue Terrier can be a bit boisterous during playtime, especially with some rough housing or a game of tug of war, he is an affectionate and loving dog at heart and adores being in the company of his human family. He cares deeply for his owners and will protect them fiercely, despite his small size. This protective side of his temperament should not be encouraged as it can create over-protectiveness which is not appropriate. Socialise him well with other dogs and people from a young age and he will be friendly to strangers. Your Kerry Blue Terrier is generally a quiet dog and won't bark unnecessarily, making him a great watchdog. As your Kerry Blue Terrier is self-assured and confident, he needs an authoritative owner who will make sure he knows his place in the family.
Conformation:
The Kerry Blue Terrier has a sturdy, muscular frame. The long head should be in proportion to the body with a flat skull and slight stop. The jaw meets in a scissor bite. The Kerry Blue Terrier has a black nose and small dark eyes while the ears are V shaped and small. The neck is long and slopes down to strong shoulders. The tail should be high set. The Kerry Blue Terrier has a distinctive single coat which is soft and wavy.
Colour:
The Kerry Blue Terrier's coat can come in a range of colours including black and dark blue, to a more brown shade and a range of grey tones. The preferred colour is between a slate blue to pale grey when the dog is over 28 months old. Puppies' coat colours tend to change as they get older.
Training:
Your Kerry Blue Terrier is a very intelligent dog and his love of activity means that he enjoys being trained to perform tricks and excels in agility classes and shows. However, they are dominant characters and will run rings around timid owners. Be firm yet fair with your Kerry Blue Terrier and you will both enjoy training. However, due to your Kerry Blue Terrier's high intellect you need to keep training lessons interesting in order to keep him interested and prevent him from getting bored. Ensure training sessions are short, fun and varied with plenty of rewards and positive reinforcement.
Care:
The Kerry Blue Terrier needs a professional trim every six weeks as well as brushing at least once per week. Unlike many other breeds, bathing does not damage the Kerry Blue Terrier's coat or cause skin issues, so can be done as often as weekly to keep the Kerry Blue Terrier clean. The Kerry Blue Terrier's beards should be combed daily in order to keep it clean of food and dirt. The Kerry Blue Terrier's coat sheds very little hair, making the breed suitable for allergy sufferers.
Health:
The average lifespan of a Kerry Blue Terrier is between 12 and 15 years. The breed is generally hardy and there are little genetic health issues. However, some Kerry Blue Terriers are prone to Hip Dysplasia and Cerebellar Abiotrophy. Cataracts, entropion, hair follicle tumours and retinal folds are also sometimes seen in the breed.
You may also like:










Advice on choosing your breed »
Find an animal shelter or rescue home where a Kerry Blue Terrier is waiting for a new home »
The following grid gives a fast track review which covers all breeds. You can apply it to help you decide if a Kerry Blue Terrier is suitable for you, the environment where you live, your personality and your lifestyle. On the grid, 1 = strongly disagree, and 5 = strongly agree. For example, if you are looking for a dog that doesn't shed much, look down the list under 'grooming' and you will see that Kerry Blue Terriers don't moult much, scoring 1. If you are looking for a dog that would make a good watch dog, look under 'role and suitability' and you'll see a Kerry Blue Terrier would be an excellent choice, also scoring 5. You might like to save or print off this section and keep it for reference while you check some other breeds before making your choice.
Be the first to rate this breed »
|
*PLEASE NOTE: All our breed profiles are general, and all dogs are individuals. Always talk to the breeders and meet the owners you are buying from. Try to meet the dog and its parents if it is a puppy in their home environment.