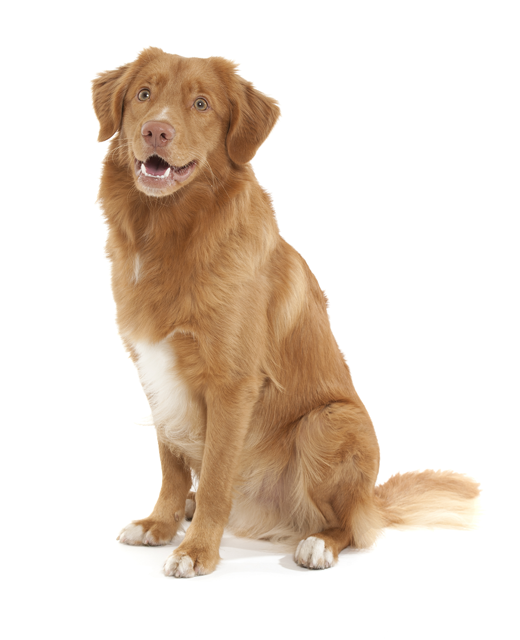 In my own words
"Here's your stick back, throw it again! I love to fetch. It's my favourite game. I have SO much energy that once is never enough! Playtime is my favourite way of exercising, and I need a lot of exercise as I am so active. If you're worried you can't keep up (although I'm sure you can), I also love to play with children so they can occupy me for a while if you want a break. I'm a good all-rounder and am happy with any company, even other pets. I might be a little wary at first but as long as I'm socialised early I'm a great friend to anyone. Of course you're always my favourite, I'm a very loyal companion you see.
Playing isn't all I'm about though, I also like using my energy to work. My breed was initially used to lure waterfowl for hunters, and I still love swimming to this day. My coat is weather proof so cold water doesn't faze me; I could swim for hours if you let me!  Although playing and exercise are important in my life, I am also good to train. I take directions very well and providing a gentle caring training technique is used, I can excel. My breed has won many competitions and trials including agility and intelligence. Although I love my active lifestyle, this doesn't mean I don't enjoy being a valued and loved member of the family. I pride myself on my loyalty and companionship, and there isn't anything better than pleasing my owners. Except maybe swimming!"
My ideal owner(s)
Active Singles
Outdoorsy types
Families
What they say about me
Excellent Companion
Devoted
Loyal
Playful
Patient
What do you think? Read on to see if my other qualities are just perfect for you!
Is this Nova scotia retriever for you?
Test your knowledge about the Nova scotia retriever
Information essential about the Nova scotia retriever
Kennel Club Group:  Gundog
Size: Medium
Weight Male 17-23kg Female 17-20kg
Height Male 48-51" Female 45 – 48"
Popularity:
Since arriving in the UK in the late 1980s they are slowly gaining popularity. They originated in Canada.
Breed History:
The ancestors of the Nova Scotia Duck Tolling Retriever of today have been recorded since at least the 1890s. The breed was further developed in the early part of the 20th century to lure and retrieve waterfowl. It is thought that they were the result of several crosses involving Golden, Chesapeake Bay, Labrador and Flat- Coated Retrievers. It is possible that they may also have small amounts of Cocker Spaniel, Irish setter, Working Collies and maybe even a variety or two of the spitz type breeds in them too.
Although known by other names such as Little River Duck Dog and Yarmouth Toller, when first registered by the Canadian Kennel Club in the 1950s they were called the Nova Scotia Duck Tolling Retriever. 'Tolling' is a hunting practice in which the dog lures waterfowl within range, and the Nova Scotia Duck Tolling Retriever proved to be especially good at it. Tollers lived and worked quietly in their native lands for hundreds of years, not making a splash in the U.S until the 1980s.
Character:
A dog that loves to work, the Toller loves being given tasks to do. They absolutely love to play, making them very good with children and other pets. They have a boundless energy which means they require sufficient exercise and aren't suitable for small surroundings such as an apartment.
Temperament:
Sometimes the Toller is confused with the Golden Retriever as they have a similar wonderful temperament, but the Toller can be more wary around strangers and unfamiliar animals. Once socialized, this breed will do well with another four legged companion.
The Toller has an intense drive and a strong love for water. Initially used to lure waterfowl within gunshot range, this breed has a strong double coat which endures cold water.
Conformation:
The Nova Scotia Duck Tolling Retrievers coat comes in various shades of red and is of a soft medium length. The undercoat is dense and feathers out towards the hind quarters. This denseness ensures that its coat is not only water repellent, but can also withstand extreme temperatures. The Nova Scotia Retrievers' body is muscular and sturdy with a deep chest and a short back. Its feet are round and webbed with arched toes. When active, this breed gives the impression of power as its back legs supply the drive and its front legs reach well out in front.
Colour:
Various shades of red and orange, with lighter feathering and sometimes features of white.
Training:
This highly intelligent dog is agile and active. Training the breed is not difficult as this breed is very attentive and is obedient. Its high energy makes it fun-loving and a fast learner. The Toller has won many dog trials such as fly ball and agility, alongside showing a talent for tracking and obedience.
Exercise:
This dog requires a minimum of 2 hours exercise a day. They enjoy games to do with swimming and retrieving as this is their strong point. As long as this breed is sufficiently exercised they will remain happy. As the Toller is lively, they do best with a securely fenced yard.
Care:
The Toller requires simple grooming, such as regular brushing of their double coat and dry shampooing. Bathing regularly is not recommended as it will strip the coat of its natural oils which are needed if the coat is to remain water resistant.
Puppies require a nutritious diet in order to ensure the proper formation of the bones and joints.
Health:
Although generally healthy, some Tollers can develop eye and thyroid problems. Symptoms of thyroid problems include weight gain, skin and hair problems. As 1 in 6 Tollers have been known to suffer from thyroid problems, it is best to know the signs and practice regular check-ups.  Hip Dysplasia is another common health issue amongst this breed.
The Toller's live expectancy ranges from 9-15 years.
You may also like:










Advice on choosing your breed »
Find an animal shelter or rescue home where a Nova scotia retriever is waiting for a new home »
The following grid gives a fast track review which covers all breeds. You can apply it to help you decide if a Toller is suitable for you, the environment where you live, your personality and your lifestyle. On the grid, 1= strongly disagree, and 5= strongly agree. For example, if you are looking for a dog that loves to swim, scroll down and you will see in red the Toller score is 5, this means he loves to swim. You might like to save or print off this section and keep it for reference while you check some other breeds before making your final choice.
Be the first to rate this breed »
|
*PLEASE NOTE: All our breed profiles are general, and all dogs are individuals. Always talk to the breeders and meet the owners you are buying from. Try to meet the dog and its parents if it is a puppy in their home environment.