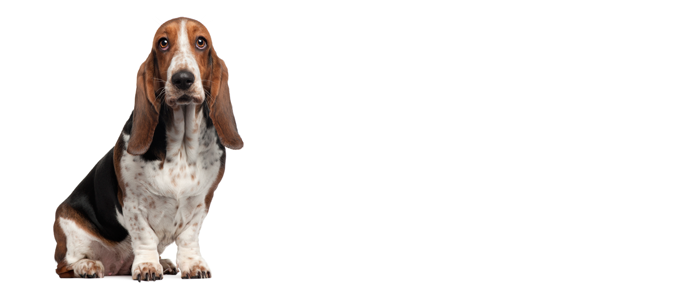 In my own words
I'm a pretty laid back kind of guy. When I'm not romping through the park you'll find me chilling out on the coach, just taking it easy. If you want to join me I do like a good snuggle. Basically, I just like to be part of the action even if it's no more than hanging out and watching a movie with the family. Don't write me off as lazy just yet though- I am a hunting dog by nature after all and when I get going I can run for miles. Let me off the leash at your own risk!
I love learning new tricks, especially if there are some treats waiting for me as a reward. You might find that I can be a little stubborn when it comes to obedience training, but just pull those treats out again and I'll do whatever you command. Everyone needs a little incentive every now and again! My adorable (albeit somewhat droopy) good looks ensure that I'm always popular but it is my easygoing personality that will really win you over.
My ideal owner(s)
Singles
City-dwellers
Families
Active people
What they say about me
Affectionate
Mellow
Active
Please read on, to find out more about me, and whether I will be someone you can be happy with for the next 10 years, or even longer!
Is this Basset Hound for you?
Test your knowledge about the Basset Hound
Information essential about the Basset Hound
Kennel Club Group:
Hound
Size:
Medium: Weight Male 50 – 65 lb (23 – 29kg) Female 45 – 60 lb (20 – 27 kg)
Height Male 12 – 15" (30– 38 cm) Female 11 – 14" (28 – 36 cm)
Popularity:
The Basset Hound was first presented at a Paris dog show in 1863 and has remained widely popular even since.
Breed History:
Basset Hounds originated in France and were initially used throughout Europe as hunting dogs. An ancient breed, they are a direct descendant of the Bloodhound and possess a similarly impressive sense of smell. Basset Hounds were first bred by monks who were in need of a slower variety of hunting dog that could be easily followed by foot. The fact that they are slow movers not only makes them more convenient for hunters pursue but also makes them less likely to startle game. While Bassets characteristically have slow reflexes, this is more than compensated for by their excellent sense of smell. These dogs proved to be excellent trackers of rabbit, hare, pheasant and deer and are able to hunt both in packs and alone.
Basset Hound's have long been a popular breed throughout history, with Shakespeare poetically describing their ears "which sweep away the morning dew." In fact, so distinctive are their droopy features that their name is derived from the French word "bas" meaning low. It is even said that George Washington was given Basset Hounds as a gift from Lafayette after the American Revolution.
Since 1935, the Basset Hound Club of America has promoted the breed as a resourceful hunter, tracker and companion.
Character:
Mild-mannered and obedient, your Basset Hound is a mellow character and will make an excellent member of the family. While they may be more laid back than other breeds they are by no means shy and, being pack dogs by nature, love to feel like they are part of the action. Great all-around playmates, your Basset Hound has a sweet nature that is near irresistible. Despite this they can prove to be difficult to train and housebreak. Rather sneakily, they tend have a selective memory when it comes to commands—especially when there are no treats involved as an incentive. You will find that your Basset Hound is also very vocal when they want something, howling or even grumbling in a low murmuring sound until they get what they want. Your dog's superior sense of smell is rivalled only by that of the bloodhound and as a result care needs to be taken when walking them. It should be noted that when Basset Hounds pick up a scent, they can get distracted and are very good at escaping from yards and slipping out of their collars. If you do intend to let them off the leash, do so at your own risk as they are more than likely to dart off in chase of some form of prey. Despite their hunting instincts sometimes getting the better of them, Basset Hounds are an extremely lovable dog with a kind nature and will easily blend in to family life.
Temperament:
The Basset Hound has a sweet, gentle nature and will be entirely devoted to their owner. This breed's laid-back nature means that they will slot easily into family life, whether it's time to relax or play. Basset hounds are very affectionate and will get on well with adults and children alike, particularly those who cuddle them. This being said their long ears are quite sensitive so take care with young children and ensure that they are respectful of this. The Basset Hound should never behave aggressively, yet it is integral that they know their place and taught to be obedient form an early age. While housebreaking can be difficult at first, they respond well to encouragement and gentle training and are especially well behaved when treats are involved. Basset Hounds are even known to perform tricks for the right kind of reward (they really do love their treats). While they are obedient with proper training, their hunting instincts are powerful and will kick into action without notice. For this reason it is recommended that you only allow them off the lead in safe areas. The Basset Hound has a very loving nature. While they may make a good alarm dog due to their howling and barking, they are far too gentle to be successful guard dogs.
Conformation:
Basset Hounds are short, long, sturdy dogs with the thick frames necessary to trail animals over any terrain. Their medium-sized heads have rounded skulls, long and deep muzzles, and black noses. They have dark, slightly sunken eyes that have a soft sad expression, and their ears are long, low and silky. The skin hangs loosely and falls in folds on the head. Basset Hounds have deep chests, narrow shoulders and thick, sturdy legs. The deep chest should extend over the front legs. Their backs should be long and straight and their tapered tails are carried high. They have short, dense, weather-resistant coats that should be straight and firm in texture.
Colour:
The Basset Hound comes in a range of colours, but is typically white with deep brown markings.
Training:
The Basset Hound can be a very sensitive breed, so it is necessary that training is both gentle and patient. It is important to maintain a level of consistency and if all else fails; treats always make a great incentive
Care:
The smooth, shorthaired coat of the Basset Hound is simple to groom. In order to reduce shedding, the coat needs to be combed and brushed with a firm bristle brush and shampooed only when necessary. Earls need to be cleaned regularly while trim toenails also need to be trimmed
Health:
The lifespan of a healthy individual is between 10 and 12 years, which is normal for a dog of this size. If you buy from a reputable, responsible breeder, health problems should not occur. However, if your Beagle does achieve a good old age, the normal complaints that we all suffer from, such as arthritis and failing eyesight may begin to develop. Common diseases include epilespsy, glaucoma and thrombopathy. Hip and elbow dysplasia can also occur, and it is a good idea to get your puppy hip and elbow scored if you are thinking of breeding later on. Other problems can include patella luxation, where the kneecap slips in and out of place. It is very important not to overfeed your Basset Hound, as extra weight places far too great of a load on their legs and spine. They are also prone to bloating, so it is best to feed them three small meals a day rather than one large one. However, if you are careful who you buy from, your Basset Hound should give you many years of good health, fun and loving companionship.
You may also like:
















Advice on choosing your breed »
Find an animal shelter or rescue home where a Basset Hound is waiting for a new home »
The following grid gives a fast track review which covers all breeds. You can apply it to help you decide if a Basset Hound is suitable for you, the environment where you live, your personality and your lifestyle. On the grid, 1= strongly disagree, and 5= strongly agree. For example, if you are looking for a dog that is suitable for families, look down the list under Role and Suitability, and you will see that Basset Hounds are great with adults and children alike, scoring 5. If you want a playful companion, look at the Activities list, and you will see that Basset Hounds love to fetch and hunt, and score 5. You might like to save or print off this section and keep it for reference while you check some other breeds before making your final choice.
Be the first to rate this breed »
|
*PLEASE NOTE: All our breed profiles are general, and all dogs are individuals. Always talk to the breeders and meet the owners you are buying from. Try to meet the dog and its parents if it is a puppy in their home environment.