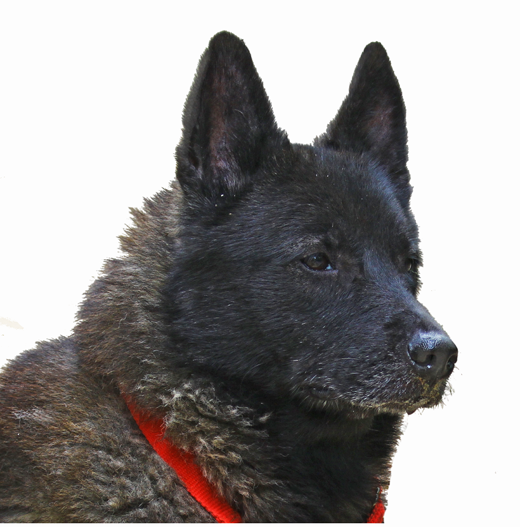 In my own words
Hand me my two weatherproof coats for the winter please, which are amazingly adaptive for the northern climates that I once was bred in and worked in.
I'm related to the Spitz family, which may answer to why I can sometimes be a little stubborn and independent. I put it down to our survival mechanisms, which we had to develop in order to help us navigate our way through the landscapes of the northern and Arctic countries.
I do require as much exercise as I would get if I was out at work hunting all day, and if mentally and physical stimulated I can be dependable and very even tempered. If not I love to get in some mischief when bored and can cause you havoc.
Having been bred for life in Artic conditions, I do not enjoy extremely hot temperatures so during warmer periods I need enough water, shade and cool spaces. Its not nice having so many warm, snuggly coats and not being able to remove them if placed in a warm climate.  I'll love your children as much as you do, protect you from harm and become your companion for life if you learn to accept my ways, appreciate my history and temperament.
My ideal owner(s)
Outdoors type
Active
Dominant
Firm
Experienced
What they say about me
Playful
Hardy
Bold
Alert
Willed
Smart
Is this Norwegian Elk hound for you?
Test your knowledge about the Norwegian Elk hound
Information essential about the Norwegian Elk hound
Breed Group – Hound Dogs
SIZE
Average height to withers: Males between 19-21 inches, with females between 18-20 inches.
Average weight: 23-37kg for males and females up to 23kg.
Popularity:
The Norwegian Elkhound became a breed of interest after the Norwegian Hunters Association held its first dog show in 1877. Shortly thereafter, breeders began an effort to create a breed standard and records, and to also shape the Norwegian Elkhound into a serious competitor in the conformation ring.
Today, the Norwegian Elkhound makes a wonderful family companion and does well in a variety of dog sports and careers, including conformation, agility, obedience, fly ball, freestyle, tracking, guarding, herding, sledding, and search and rescue. Norwegian Elkhounds are still used in their original capacity as hunting dogs as well.
The AKC recognized the breed around 1930, and it has enjoyed moderate popularity since then. In Scandinavia, the elkhound is still tested by grueling elk hunts that may entail an entire day of trailing.
Breed History:
The Norwegian Elkhound originated in the breathtakingly beautiful and rugged country of Norway. He can be traced back roughly a thousand years, where a breed of dog similar in shape and size was used by the Vikings to guard and hunt. The elkhound is an unusual hound because its roots lie in the spitz breeds, which it still closely resembles. This breed's placement in the hound group reflects its hunting ability because it hunts like a hound. Still, the elkhound is a breed of many skills.
It's possible that the breed may reach back as far as 5000 BCE, The Norwegian Elkhound has been a common fixture in the history of not only the Vikings but of Norwegian culture in general. The breed has been used to guard herds, flocks, and homes; and to hunt large game such as bear and moose. His role in hunting was to first track down his prey and then to hold it at bay by barking until the hunter could arrive to kill the animal.
In a land of subzero temperatures, deep snow, thick forests and rugged mountains, only the hardiest of breeds could evolve to perform the variety of jobs at which the elkhound excels. Of all its roles, hunting elk (actually, moose) is this breed's forte.
Although the breed had been carefully bred for centuries, only since the late 1800s were pedigrees kept and breeding according to standard performed.
Character:
Norwegian Elkhounds are affectionate dogs that make devoted, wonderful family members. They're excellent with children and are terrific watch dogs, treating strangers with natural suspicion. They thrive on attention, and it's hard to find a more loyal companion. Once an Elkhound bonds to you, though, you'll be an inseparable pair as far as he's concerned.
Norwegian Elkhounds are strong-willed enough that they can take over a home if they're allowed half a chance. They love the dominant role, and without proper training and socialization, this can become a problem
He's a capable, confident dog with a strong presence, whose self-reliance requires supervision and leadership.
The Norwegian Elkhound is a bundle of energy just waiting for the signal to go, yet when well trained he can control himself. This rugged breed plays hard and enjoys vigorous exercise, and can portray rowdiness and exuberance as a pup. Thus meaning a strong, confident owner is required to enable dominance in the pack with owner being alpha and taking leadership.
Temperament:
Bold, energetic and very protective, this breed makes an excellent watchdog and guardian, showing complete devotion to their families. When you're upset this tenderhearted Viking will rest his head on lap in consonance. Independent thinkers, these extroverted clowns like to be where the action is. They see themselves as coexisting with you--not necessarily underneath you in the chain of command. They can be hard to train because of that independence, but they can get it if you're firm and consistent. If you're not a firm person, however, this dog will walk all over you. Amazingly devoted, he's protective if not outright possessive of his family. Attached and loyal, he's happiest to be with you all the time and dotes on your attention and interaction. A born watchdog but not aggressive by nature, his bark provides a level of safety from intruders. This breed is known for his barking, and although this trait can be trained out of some, don't bet on it with an Elk.
The Norwegian elkhound combines traits of hounds and spitz-like dogs, resulting in a breed that is bold, playful, independent, alert, boisterous and — unlike most hounds — even protective
Elkhounds are naturally noisy and rambunctious, even when exercised properly. They have a tendency to jump on people, so it is imperative to teach them "down" They love to hear themselves bark, and though they are not aggressive, will bark to let you know someone is approaching. Separation Anxiety can often develop in this breed. Elkhounds love to be with their families and when left alone too long can bark excessively and become destructive.
Conformation:
The Norwegian Elk is a hardy hunting Spitz with a bold energetic disposition. With a powerful, compact body; square outline and proud carriage; coat close and abundant but not open; upstanding pointed ears; and a tail tightly curled over its back.  An extremely intelligent, friendly dog with an independent nature without any trace of nervousness. His movement demonstrates great agility and endurance; his stride at a trot is even and effortless. He is a gorgeous dog with an almost wolf like face, smart as can be and demonstrates a great sense of humour.
It has a thick, smooth-lying coat consisting of straight outer hairs and a wooly undercoat. This combination presents the best protection against cold and snow.
Naturally, they prefer a winter climate with lots of snow to play in. A true adventurer, the Elkhound wants his adventure to occur outdoors. Long daily exercise is a necessity; so if you're not ready to turn your couch potato ways into those of an outdoorsman, think twice--if you can't keep up, you'll soon be met with a house full of destroyed belongings that met their fates as he found ways to expend his endless energy. Not surprisingly, the Elkhound excels at fast-moving performance events such as agility. One thing to remember is they can be aggressive with other dogs of the same sex and may be cat chasers unless raised with the family cat.
Colour:
Silver and Grey
Training:
Norwegian Elkhounds are strong-willed enough that they can take over a home if they're allowed half a chance. They love the dominant role, and without proper training and socialization, this can become a problem. Training can be difficult, and they need a firm and consistent owner.
What this background means to the average dog owner is that exacting obedience work just isn't in the picture. He'll be fine in basic obedience and he makes a great family dog, but understands clearly that pleasing you is not the highest item on his to-do list. This is no Golden Retriever, so go get your own slippers. Toys are generally of no interest. He loves chasing balls, but you can forget about him bringing them back to you.
Like every dog, the Elkhound needs early socialization--exposure to many different people, sights, sounds, and experiences--when they're young. Socialization helps ensure that your Elkhound puppy grows up to be a well-rounded dog.
Care:
The Norwegian Elkhound requires daily exercise (breeders recommend 30 minutes twice a day), not only to burn off energy but also to help him maintain a healthy weight as some can be exceptionally food motivated and obsessive can lead to over weight dogs. A healthy Elkhound will live up to the age of 15 years old and maybe longer as these dogs usually enjoy a robust health. They can be quite gluttonous dogs, and as such if they do not receive the correct balance of food versus exercise, they can have a tendency to put on weight. Seek advice from your vet with regards to the best nutrition plan for your dog in this case.
He will do fine in an apartments if he's properly exercised, but the ideal setting is a large, fenced yard. Despite his outdoor hardiness, he needs to live indoors with his family.
Elkhounds molt quite profusely. Their coat does not need trimming. Keep him wiped clean with a damp cloth, and when he molts, comb and brush out the loose coat. If you can brush and comb him daily, he will look really first class. An occasional bath and shampoo will be necessary, followed by brisk toweling with his own towel.
Health:
Elkhounds are generally healthy, but like all breeds, they're prone to certain health conditions. Not all Elkhounds will get any or all of these diseases, but it's important to be aware of them if you're considering this breed. The ones to look out for is an inherited disease that affects the kidneys called fanconi syndrome. Another is hypothyroidism, which is a thyroid gland disorder. Others that should be checked for include sebaceous cysts, which can form under the dogs skin, and a progressive retinal atrophy, which is a form of eye disease.
You may also like:










Advice on choosing your breed »
Find an animal shelter or rescue home where a Norwegian Elk hound is waiting for a new home »
The Norwegian Elkhound is an adaptable all-rounder whose hunting skill is merely one of his many and varied talents. He is a courageous and loyal companion possessing an exceptionally high degree of intelligence, which enables him to match his quick wits against anything or anyone, and win! Herein lies a danger for the new owner, who must remember that Elkhounds love being part of a family and joining in family life. This "pack" loyalty must be utilised to the full. Consistent firm and loving handling is needed to enable him to learn the family rules, and to make him understand his role as a member for the pack, and not its leader.
Be the first to rate this breed »
|
*PLEASE NOTE: All our breed profiles are general, and all dogs are individuals. Always talk to the breeders and meet the owners you are buying from. Try to meet the dog and its parents if it is a puppy in their home environment.