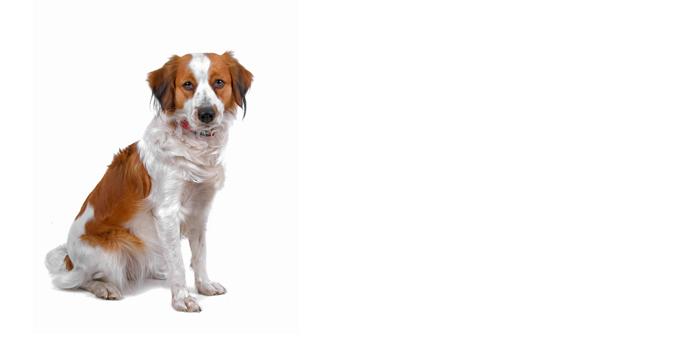 In my own words
I know what your thinking? Haven't seen a dog like me before huh? Not to worry, I get that a lot. It's because I'm a particularly rare breed.  So rare I was almost driven into extinction. My ancestors were pros at hunting, duck hunting specifically. My fellow Kooikers (as we like to be called), originate from the Netherlands. It was during World War II that our population dwindled to near enough extinction. Thank heavens we were re-populated and now I'm a rare yet thought after pup.
I live with a kind family, where they put my hunting instincts to good use. My master takes me on shoots whenever he can. I stay very close to him because I get weary with strangers.  Whilst I love a good hunt, my family and home are what I depend on. The kids who I live with are calm and attentive to my needs. I don't do well with too much commotion.
My ideal owner(s)
Outdoorsy type
Hunters
Families
Experienced owners
What they say about me
Brave
Versatile
Alert
Reserved with strangers
Please read on, to find out more about me, and whether I will be someone you can be happy with for the next 12 years, or even longer!
Is this Kooikerhondje for you?
Test your knowledge about the Kooikerhondje
Information essential about the Kooikerhondje
Kennel Club Group: gundog Category:
Size: medium
Height: 14-16 inches 35 to 40 cm
Popularity:
Today the breed remains extremely rare and difficult to obtain.
Breed History:
This rare breed originated in the Netherlands in the 1500s. Kooikerhondje's were used to decoy in hunt ducks. The Kooikerhondje was developed in the Netherlands around the sixteenth century to be a tolling breed. They were used to lure and drive ducks into 'kooien' (cages in the form of canals with traps at the ends), where the hunter (the so called Kooiker) could easily catch the fowl. The dogs that were used by the Kooiker for this kind of hunting technique, were referred to as the 'Kooiker's hondjes' (literally: Kooiker's dogs). Eventually this led to this dog being called Kooikerhondje.
The Kooikerhondje loves water and is an adept swimmer due to their original role luring ducks into traps for hunters along the Dutch waterways. They suffered terribly during the ravages of WWII, almost heading into extinction until the breed was carefully resurrected. In 1943 Baroness von Hardenbrock van Ammerstol began the arduous task of reviving the breed. Today they remain extremely rare and difficult to obtain.
The breed was only officially recognized by the Dutch Kennel Club, in 1971 and has since been imported into other countries and recognised officially. The breed is still relatively unknown in North America and not yet recognized as a breed in the USA or Canada.
In the UK, the breed has been removed from the import list and is now eligible to enter Crufts for the Best in Show award, despite there being only 76 of the breed in the UK. Some historians believe the Kooikerhondje may have possibly played a part in the development of the Nova Scotia Duck-Tolling Retriever.
Character:
They are brave, versatile, and alert. The Kooikerhondje breed is highly adept at flushing and retrieving fowl. The Kooikerhondje breed is lively, attentive, and good-natured. They are not recommended for homes with small or loud, boisterous children. They bond closely to their family and are reserved with strangers. The Kooikerhondje will do well with other pets they have been raised with. They make an excellent hunting companion or delightful family pet.
Temperament:
The Kooikerhondje adapts to situations rather quickly, changing his behaviour from quiet to lively when the situation allows him to be. He will not always immediately like strangers, instead choosing to retreat. But once he warms up to someone, the trust will be there for the rest of his life. The Kooikerhondje can become quite reliant on its domestic environment.
Conformation:
Seldom seen outside the Netherlands, the Kooikerhondje is a medium sized dog that has the appearance of a Spaniel or Setter. They have medium long, hanging ears with wispy tips, known as earrings, that are set close to the head and they have long, feathered tails with a white plume. The breed has a waterproof, medium long coat that doesn't hold much dirt and is easily cleaned by a simple brushing.The fur is medium long and either slightly wavy or straight
These dogs are around). They have shiny bicoloured coats that can take up to 2 years to mature, often predominantly white with orange-red plates.
Colour:
Colours include white and red or orange and white. The red or orange is typically present in patches. The ears are tipped in black and the face is white blazed.
Training:
The Kooikerhondje is exceedingly sensitive and does not respond to loud, harsh, or heavy-handed methods. Training must be done with kindness, fairness, patience, and consistency.
Care:
Kooikerhondje's require occasional brushing. Bathing should only be done when absolutely necessary. It is important to regularly check and clean the ears. If you aren't able to offer the Kooikerhondje enough exercise you'll need to keep a close eye on how much food they are consuming, as they are prone to weight gain. They require moderate exercise and short runs are ideal.
The Kooikerhondje breed is not recommended for apartment or city dwelling. They thrive on physical activity and do best in a rural setting with ample opportunity to run, roam, and hunt.
Health:
They are prone to such health issues as Epilepsy, Von Willebrand Disease, Eye Disorders, Patella, Luxation, and Myelopathy. Kooikers have good appetites and a tendency to put on weight easily.
Today (due to a lot of hard work in the national clubs) most Kooikers used for breeding are free from von Willebrands disease (most national clubs require both male and female dogs to be free from this disease to be allowed to breed). Patellar luxation is no major problem in most countries at the moment, but is kept under a close watch to prevent it from becoming a problem again. In the Netherlands, eye tests are available and all breeders breeding according to the breed club's rules have to test their dogs. Only dogs that are free of eye diseases can be used for breeding. Typically a Kooiker has an average lifespan of 12-14 years.
You may also like:















Advice on choosing your breed »
Find an animal shelter or rescue home where a Kooikerhondje is waiting for a new home »
The following grid gives a fast track review, which covers all breeds. You can apply it to help you decide if a Kooikerhondje is suitable for you, the environment where you live, your personality and your lifestyle. On the grid, 1= strongly disagree, and 5= strongly agree. For example, if you are looking for a dog to make a good walking companion, look down the list under Activities, and you will see that Kooikerhondje have lots of energy and are strong walkers, scoring 5. If you want a dog that is good for country living, look under Environment and you will see that Kooikerhondje are suited to country living, scoring 5. You might like to save or print off this section and keep it for reference while you check some other breeds before making your final choice.
Be the first to rate this breed »
|
*PLEASE NOTE: All our breed profiles are general, and all dogs are individuals. Always talk to the breeders and meet the owners you are buying from. Try to meet the dog and its parents if it is a puppy in their home environment.