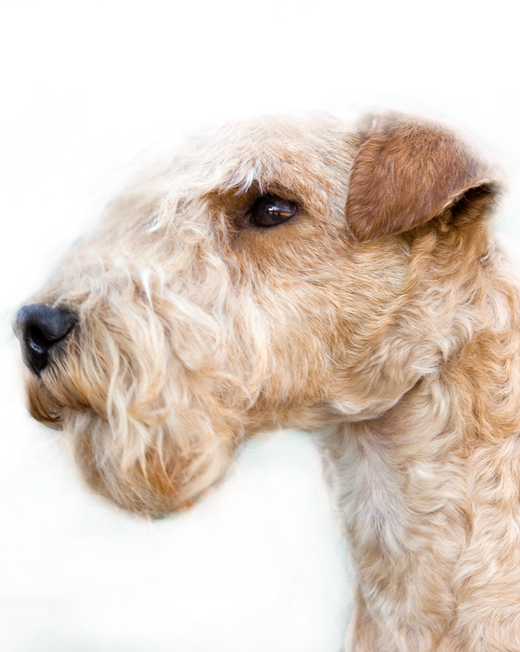 In my own words
Born free as free as the wind blows as free as the dog howls! That's me: a dog who loves nothing more than to run free through the hills and swim free through the lakes. It's a good job I live in the English Lake District, as I'm a tough and hardy breed that thrives in the heart of English countryside.  It was the perfect spot to be reared. As a pup I was given firm and authoritative training. I needed it to be the best-behaved pup I could possibly be.  I'm intelligent too so the stimulation suits me. I would hate it if someone didn't care to train me. It's made me the alert animal I now am. They were experienced owners, so I was in good hands.
My owners don't leave me alone for too long. They learnt the hard way that leaving me alone was a bad idea. I didn't mean to chew up the sofa. I couldn't help myself. I managed to find away out of the kitchen that they left me in and made my way into their bedroom and found some tasty slippers. Then I got into the garden and dug to my hearts content. OOPS! Now, they don't leave me alone for too long, as they know I can't really be held responsible for getting a tad destructive if they neglect me.
My ideal owner(s)
Active singles
City dwellers
Outdoorsy types
Families with older children
What they say about me
Bold
Active
Friendly
Determined
Intelligent
Please read on, to find out more about me, and whether I will be someone you can be happy with for the next 12 years, or even longer!
Is this Lakeland Terrier for you?
Test your knowledge about the Lakeland Terrier
Information essential about the Lakeland Terrier
Kennel Club Group:
Breed Group: Terrier
Size Average weight: Males and Females between 10-17kg.
Height: Male: 14.5; Female: 13.5 inches
Popularity:
Like all dog breeds, the effects of World War II limited breeding of this dog and the population took a nose dive, but by the end of the 1950's interest in the breed was taken up again
Breed History:
Dating from the 1700's, this terrier originated in the Lake District. They were bred to keep foxes away from sheep and hunt rats in the surrounding mountains. By the early 1900's local people were talking about the 'new improved Fell Terrier' but by 1912 the name Lakeland terrier was agreed upon. Its compact size, coupled with the stamina and energy to spend all day in the field made it a well-regarded working dog.  As they grew more popular, they were shown at local agricultural events and countryside shows but as a breed it was still outside of Kennel Club regulation. The Lakeland Terrier Association (now closed) was founded in 1921 and regulated the breed. Members were split on whether Kennel Club recognition was desirable or not, but in 1928 a majority was obtained in favour of application for Kennel Club recognition. The Lakeland Terrier Club was founded in 1932 and the continued progression of the breeds profile was propagated even further
Character:
Bred to be tireless workers, these little guys can be independent and stubborn, but they are usually eager to please. Lakeland Terriers are extremely bold, but they get along with other dogs. However, they should still be kept on a leash when in public. Overall, these dogs have a friendly and fun demeanour.
Temperament:
Robust, hardy and healthy, with a liking for people and especially tolerant of children, in many ways the Lakeland Terrier is an ideal dog, however, as much as they can live with other pets, they cannot always be trusted with dogs of the same sex, especially another terrier with a typical 'small dog attitude' to life! They respond well to consistent and firm training. A dependable and patient leader is a must for the gutsy temperament of this dog. Though relatively small, they are active dogs with a lot of stamina and they love to race round, run and play. They can walk all day, in all weathers, but many have adopted the liking for fireside living if the weather is very rainy. This dog loves to chase moving objects so should never be let off lead unless in a fenced in yard. Very feisty and vivacious, this breed requires firm training. They love to dig and have the tendency to guard items that he considers "his." The Lakeland terrier is somewhat of a barker too.
Conformation:
Lakeland Terriers have small, square-built frames. Their long, narrow heads have a pair of wily, intelligent, oval and dark eyes and V-shaped ears that fold forward. They have strong necks that slope down to deep chests, short backs and medium-length tails that point straight up. The coat is double, with a soft undercoat and a wild, woolly and harsh outer layer. This makes the coat quite weather resistant, which is suited to the less than clement Lakeland weather. The Lakeland is a sturdy dog with a compact yet narrow shape and long legs.
Colour:
Most Lakeland Terriers are some variation of the black and tan colour, ranging from a mixture of the two colours, to mostly black or mostly tan. Solid colours include blue, black, liver, red, or wheaten. Grizzle is a common reference to those, which feature black and tan hairs on the saddle and back area
Training:
This energetic dog responds best with a variety of training methods and can be difficult to housebreak. He requires obedience training to be well mannered, and should have firm training
Care:
The Lakeland's wiry coats need regular grooming and clipping to maintain their distinctive look. Their thick double coat can make grooming a chore and one needs to remember to trim their ears and feet regularly. This is something a professional dog groomer can do for you if you do not have the skills to do yourself.  In addition, the beard of this breed should be regularly cleaned.
Lakeland Terriers adapt very well to apartment living as long as they get a good, daily walk. If you can occasionally allow them some time to run free in a protected environment, they will definitely have a blast. This dog needs to be busy and active so is suited to an active family who want to spend a lot of time outdoors, playing and walking with their dog. If you have a couch potato lifestyle then this is not the dog for you.
Health:
This breed carries relatively few genetic health problems. They were bred to be tough dogs, and this has infiltrated through them as a breed. They are known for their healthfulness and do not have any particular illnesses or conditions attached to their name. Some are more prone to cataracts than others. Rare health concerns include Legg-Perthes Disease and Von Willebrand's disease (VWD).
This little terrier can happily live 15 years or longer in good health.
You may also like:
















Advice on choosing your breed »
Find an animal shelter or rescue home where a Lakeland Terrier is waiting for a new home »
The following grid gives a fast track review, which covers all breeds. You can apply it to help you decide if a Lakeland terrier is suitable for you, the environment where you live, your personality and your lifestyle. On the grid, 1= strongly disagree, and 5= strongly agree. For example, if you are looking for a dog to make a good walking companion, look down the list under Activities, and you will see that a Lakeland terrier have lots of energy and are strong walkers, scoring 5. If you want a dog that is good for country living, look under Environment and you will see that Lakelands are suited to country living, scoring 5. You might like to save or print off this section and keep it for reference while you check some other breeds before making your final choice.
Be the first to rate this breed »
|
*PLEASE NOTE: All our breed profiles are general, and all dogs are individuals. Always talk to the breeders and meet the owners you are buying from. Try to meet the dog and its parents if it is a puppy in their home environment.