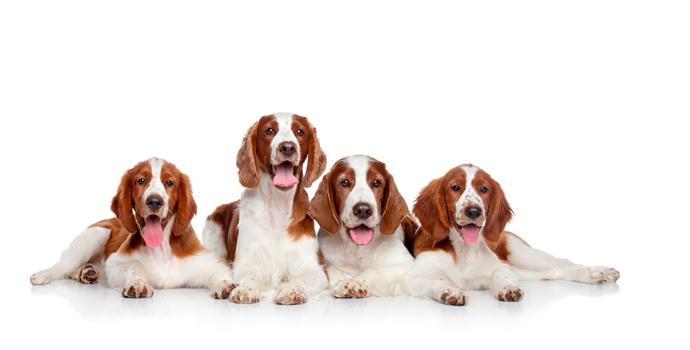 In my own words
Anyone for a swim? Come on family! Let's go for a run instead! Anything you like!? You want to go for a walk? OK I'm in! Come on! Lets go!
I like to feel the wind in my ears. My family love my ears. They are long and lovely and floppy. And I love my family! I'd do anything for them. If I get bored sometimes I have chewed shoes and they don't like that. But I try and be good. I like to make them happy. Hang on! I think I saw a pond. Was that a pond? I'm going for a swim. I'm off! Yep! Bye! See ya!
My ideal owner(s)
Active families
Country Folk
Outdoorsy types
Retirees
City dwellers
Energetic
What they say about me
Lively
Affectionate
Active
Playful
Gentle.
Is this Welsh Springer Spaniel for you?
Test your knowledge about the Welsh Springer Spaniel
Information essential about the Welsh Springer Spaniel
Kennel Club Group:
Gun Dog
Size:-
Weight 25 - 45 lb (16 – 20 kg)
Height 18-19" (45 – 48 cm)
Popularity:
The Welsh Springer spaniel has been a treasured companion breed since the 14th century and is a popular hunting dog.
Breed History:
It is thought that the Welsh Springer Spaniel has existed since the 1600s. The Welsh Springer is closely related to the English Springer and was recognised as a separate breed in 1902. The name 'Springer' comes form the role it played – it would 'spring' birds and fowl from the ground into the air so the hunter could shoot it down. They were also used in Wales for shepherding and cattle droving. Their versatile qualities made them a popular breed.
Character:
Welsh Springer Spaniels are very lively and affectionate gun dogs. They love the great outdoors and will walk and run all day given the chance. Their love of water and swimming is legendary. They get on well with families and are people-oriented. They will happily settle in the home at the end of a busy day. While generally considered more reserved than the English Springer Spaniel, they do need lots of company. Welsh Springers are good with children, as they are gentle and playful. They are bright and eager to please which makes them easy to train, but without enough mental and physical stimulation they can become destructive and mischievous. They are not happy being left alone for long periods of time.
Temperament:
As with all other dogs, the Welsh Springer should be socialised and trained from an early age to avoid aggression and dominance issues. This spirited dog by nature is an obedient, good natured and faithful breed. Springers are not aggressive dogs and will get along well with other household pets.
Conformation:
The Welsh Springer Spaniel is a little longer than it is tall. They have hardy, compact frames and are a medium size. They have naturally straight coats, which are soft and thick and never wiry. The coat is weatherproof. They have long feathered drop pendant ears, domed heads and dark or hazel eyes. They also have feathering on the underside of the body, on the chest and on the backs of the legs which helps protect the dog when it is swimming. They are fast movers, built for endurance, covering the ground with powerful strides. Their necks are long and muscular, set into sloping shoulders. Their tails are carried high.
Colour:
Rich chestnut red and white.
Training:
These obedient dogs are intelligent and eager to please. They are easy to train and should be given plenty of mental and physical stimulation. Due to their disposition, they do not like or respond well to harsh treatment. Reward based training is recommended.
Care:
Traditionally Spaniel's had their tails docked, but this was banned in the UK in 2007 (except with permitted exceptions as defined by the Docking of Working Dogs Tails England Regulations 2007 and the Animal Welfare Act 2006). This is something to bear in mind when buying a puppy. The Spaniel loves water so exercise caution on walks where water may be frozen. Due to the nature of these dogs, daily brushing will probably be necessary, but this breed does not need a lot of grooming. The fur between the pads and top of the feet will need to be clipped in case thorns and burrs get stuck, so too will the ears, to avoid infection. They shed just a little.
Health:
The Welsh Springer is generally a hardy dog and has a low susceptibility to illness. The average lifespan of this breed is 12 to 15 years. Hip dysplasia may an issue, but it is no more prone to it than other Spaniels are. The Welsh Springer can be susceptible to epilepsy. This seizure disorder has no known cause. Symptoms of seizures include a far away look, twitching, falling, gnashing teeth, accidental urinating or defecating and thrashing. Seizures come on suddenly and end suddenly and can last just seconds or go on for some time. It can be treated with anticonvulsant medication. Other health issues include allergies, Glaucoma and Otitis externa. Less common concerns include cataracts. Welsh Springers need plenty of exercise to keep them happy and healthy and physically sharp.
You may also like:










Advice on choosing your breed »
Find an animal shelter or rescue home where a Welsh Springer Spaniel is waiting for a new home »
The following grid gives a fast track review which covers all breeds. You can apply it to help you decide if a Welsh Springer Spaniel is suitable for you, the environment where you live, your personality and your lifestyle. On the grid, 1= strongly disagree, and 5= strongly agree. For example, if you are looking for a dog that likes to swim, look down the list under Activities, and you will see that Welsh Springer Spaniels are athletic and love jogging, scoring 5. If you want a playful companion, look down the same list, and you will see that Welsh Springer Spaniels love to fetch and hunt, and score 5. You might like to save or print off this section and keep it for reference while you check some other breeds before making your final choice.
Add your own ratings on this breed »
|
*PLEASE NOTE: All our breed profiles are general, and all dogs are individuals. Always talk to the breeders and meet the owners you are buying from. Try to meet the dog and its parents if it is a puppy in their home environment.