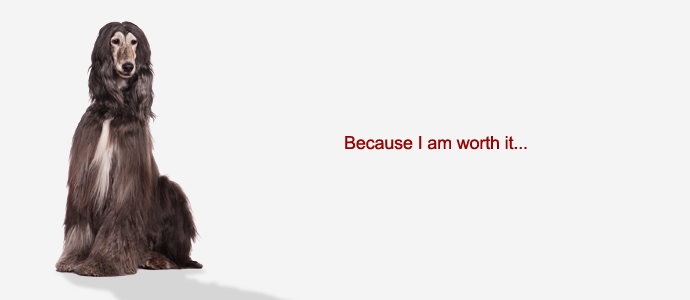 In my own words
I can't lie – I care about my appearance. Just take a look at my signature style; this long, silky, fine coat. Isn't it luxuriously soft and beautiful? I bet you wish you had hair like mine! Of course, it takes a lot of care but I don't mind. I just need you to help me keep it tangle free, shiny and healthy every day. Yes, brushing this much hair every day can take up a lot of time but it just has to be done I'm afraid. Imagine an Afghan with a tangled coat… that would be horrible! Of course, I need regular baths alongside the brushing, but I'm sure you don't mind about that… do you?
When I'm not having my coat taken care of, I like to get outside and go for a good galloping run. I have a big body with a big amount of energy to go with it! What could be better than getting into the great outdoors and feeling the wind in your hair as you enjoy a long run? Perfect!
My ideal owner(s)
Families
Couples
Hair stylists
People who are active
Ramblers and hikers
Joggers
What they say about me
Dignified and elegant
Luxurious coat
Active
The Aristocrat
Fast
Loves to run
Please read on to find out more about me, and whether I'll be someone you'll be happy to live with for the next 15 years!
Is this Afghan Hound for you?
Test your knowledge about the Afghan Hound
Information essential about the Afghan Hound
Kennel Club Group:
Hound
Size:
Large: Weight Male 55 – 62 lb (25 – 28 kg) Female 51 – 55 lb (23 – 25 kg)
Height Male 27 – 29" (68 – 74 cm) Female 25 – 27" (63 – 69 cm)
Popularity:
The long, straight, thick coat of the Afghan Hound has worked against the Afghan Hound. The coat is incredibly high maintenance and needs a lot of time, care and attention. Therefore, the Afghan Hound is not a popular pet among families, however it is a very popular breed for show and always impresses in the show ring.
Breed History:
The Afghan Hound is very old breed of dog, dating back thousands of years. The Afghan's origins are pre-Christian, though it is not known from exactly which era the breed originates from. It has been suggested that today's Afghan Hound comes from an ancient Persian breed which was brought into and traded with in Afghanistan and India.
While the Afghan Hound has an elegant and sleek look, it is thought that it was originally bred to be a hunting dog and would be used to track and catch deer, gazelles, wolves and foxes. There has also been speculation that the dogs were used in Africa to hunt big cats like leopards and panthers, showing the brave determination of the breed.
The thick coat of the breed was most likely bred in early on, when dogs with the thickest and most luxuriant coats were chosen for breeding purposes.
The Afghan Hound was prohibited from being exported until the late 1800s when it was finally brought into the UK. A man called Captain Banff brought his dog, Zardin, into England and subsequently showed him at the Crystal Palace Kennel Club show in 1907. This highlighted the breed, which gained a great deal of attention following the show.
Character:
Your Afghan Hound is intelligent, dignified and reserved. Though generally a well-mannered dog, Afghans can be highly strung and need a confident and firm yet fair owner to ensure that they do not become irritable, neurotic or shy. They are head strong and can be stubborn and wilful, so patience and consistency is also a prerequisite of anyone considering adding an Afghan Hound to their family. Afghans are best suited to experienced dog trainers as they can be difficult to housetrain and teach basic obedience to as puppies. They must be well socialised with other pets and people from a very early age or they may become shy with strangers or even scared of meeting new people. Your Afghan loves galloping across open land and going on long runs, but he will also thoroughly enjoy relaxing at home with his family. Nicknamed 'The Aristocrat' of the dog world, Afghans are elegant and charming, though they can come across as snobbish on occasion.
Temperament:
Your Afghan Hound has a very special relationship with you. They are generally quite aloof with people, but with their owner and family they show a different side to their personality. They can be clownish and humorous and love to play. Your Afghan loves to stay close to you and wants to be involved in all aspects of family life from doing chores or gardening to going out to the park on a sunny afternoon. When properly socialised as puppies, Afghans make wonderful companions for children and show patience and restraint around them during playtime. Their tendency to shyness means that socialisation must take place at every opportunity, particularly when they are puppies but also throughout their lives. If this is not done, you may find that your once calm and confident Afghan Hound becomes introverted and skittish around strangers. Though your Afghan Hound will tend to get on well with other dogs, they are born hunters with a high prey drive and should therefore never be trusted with smaller animals.
Conformation:
The Afghan hound is a large dog with an elegant, refined look. The head is long, with a slight stop and features a top knot of hai. The nose is most commonly black but may be a liver shade in lighter dogs. The eyes are triangular and can be either dark or golden, though the dark shade is preferred among breeders. The ears are low set and carried close to the head, hanging low. A strong jaw meets in a perfect scissor bite. A long neck slopes down into strong, muscular yet lean shoulders. The forelegs are straight and the hind legs powerful. The tail should not be too short and should be curved and carried high. The Afghan Hound's signature coat is long, silky, straight and fine.
Colour:
The Afghan Hound can come in any colour, or any mix of colours however the most common shades are golden and black
Training:
Your Afghan Hound is an incredibly intelligent dog, however he is also extremely independent and can be stubborn and strong willed. Therefore, although he is quick to learn, he has a low level of obedience. So, while he may know what you want him to do, you may still have trouble getting him to do it. Therefore, an experienced dog owner who can show the Afghan Hound authority, consistency and commitment is best suited to this breed.
Care:
Your Afghan Hound is an incredibly high maintenance dog. His special coat needs special care. Daily brushing is an absolute necessity as the fine, long hair can become tangled and matted very easily. Your Afghan's coat also requires regular bathing with specialist shampoos and conditioners – show dogs need to be bathed every four or five days when they transition from the fluffy puppy coat to the long adult coat.
Health:
The average lifespan of the Afghan Hound is between 9 and 15 years. The Afghan Hound is a generally hardy and robust dog, though they are prone to a few major health issues including cancer, allergies and hip dysplasia. Due to their low amount of body fat, the Afghan Hound is also very sensitive to anaesthesia, like many breeds of sight hound.
You may also like:















Advice on choosing your breed »
Find an animal shelter or rescue home where a Afghan Hound is waiting for a new home »
The following grid gives a fast track review which covers all breeds. You can apply it to help you decide if an Afghan Hound is suitable for you, the environment where you live, your personality and your lifestyle. On the grid, 1 = strongly disagree, and 5 = strongly agree. For example, if you are looking for a dog that is suitable for a farm, look down the list under 'environment' and you will see that Afghan Hounds are perfect for country living, scoring 5. If you are looking for a dog that you can take on runs, look under 'activities' and you'll see an Afghan Hound would be an excellent choice, also scoring 5 under 'good jogging companion'. You might like to save or print off this section and keep it for reference while you check some other breeds before making your choice.
Be the first to rate this breed »
|
*PLEASE NOTE: All our breed profiles are general, and all dogs are individuals. Always talk to the breeders and meet the owners you are buying from. Try to meet the dog and its parents if it is a puppy in their home environment.