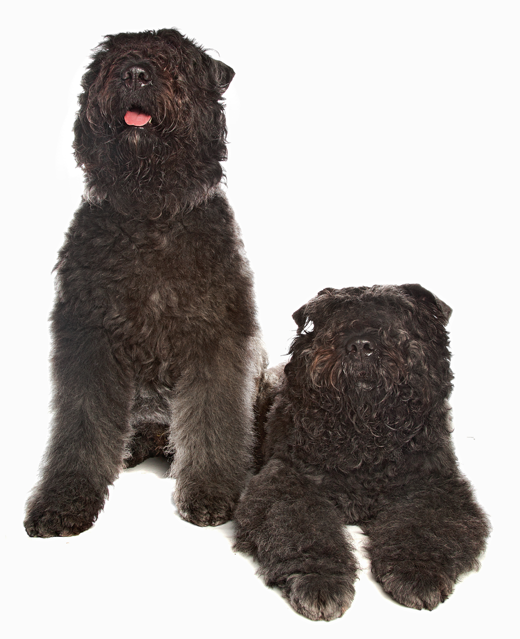 In my own words
I was bred for herding cattle you see, but I'm much more than that! I love hiking, agility and competitive obedience. I like to keep busy so I need an active owner who can keep up with me! Did you know that during World War I, my kind worked as message-carriers and search and rescue dogs? We're pretty good at things like that, we enjoy it too! I work hard and play hard!
I may look a bit shaggy but I'm more of a worker than a pin-up dog. If you're looking for the next Mr Dogiverse, you may need another mutt but if you want an adventure buddy, I'm your dog! So, where are we going next?
My ideal owner(s)
Active, sporty types
Hikers and joggers
People in cold climates
Families
What they say about me
Friendly
Obedient
Mellow and patient
Protective and fearless
Please read on, to find out more about me, and whether I will be someone you can be happy with for the next 12 years, or even longer!
Is this Bouvier des Flandres for you?
Test your knowledge about the Bouvier des Flandres
Information essential about the Bouvier des Flandres
Kennel Club Group:
Herding
Size:
Large: Weight Male 75 – 110 lb (34 – 50 kg) Female 60 – 80 lb (27 – 36 kg)
Height Male 23 – 28" (58 – 71 cm) Female 22 – 27" (56 – 69 cm)
Popularity:
Breed History:
The Bouvier des Flandres originated in Belgium by the working class who wanted to create a working dog rather than a show dog. Originally used by butchers, farmers or cattle merchants in their everyday work. The name, Bouvier des Flandres means "cowherd from Flanders" and the dog was given several nicknames such as "koehond" (cowdog), "vuilbaard" (dirty beard) and "toucheur de boeuf" or "pic" (cattle driver). During the World Wars they were used as message-carriers and rescue dogs but the breed was almost extinct by the end of World War I. In 1923 a group of people set about recreating the breed and formed a breed club in Belgium.
The Bouvier is a talented watchdog, tracking dog and guide for the blind. They are skilled at search and rescue and work in both the police and the military. They are good at agility, competitive obedience and schutzhund.
Character:
The Bouvier des Flandres is an obedient dog and is pleasant natured and gentle. They need a good amount of exercise to keep them calm.  This breed is even tempered and fearless making them excellent guard and watchdogs. They are enthusiastic and learns relatively quickly making them easy to train, however they need an experienced owner to prevent dominance and overprotectiveness. The Bouvier des Flandres need socialising at an early age to avoid shyness and reservation with strangers. The Bouvier is excellent with children and extremely loyal. They get along well with other cats and dogs but beware of keeping them with other household pets. Dominant Bouvier's can be aggressive towards other dogs and need a firm training and leadership from their owner. They are slow to mature, taking about two to three years.
Temperament:
The Bouvier is calm and quiet but extremely intelligent and good natured. This breed is better suited to more experienced dog owners as they require firm handling to avoid dominance problems. However, the Bouvier is very adaptable and given the right training is a great dog for family life
Conformation:
The Bouvier is a powerful and rugged looking dog. The head is in proportion with the body giving the dog a square profile. The dark brown eyes are oval in shape with black rims, framed but bushy eyebrows. It has a broad, tapered muzzle with high set ears that are either cropped or left natural. The tail is set high and usually docked. Note: it is illegal to crop or dock a dog's tail and ears in most parts of Europe. Dewclaws are usually removed. The Bouvier has a double coat which is weather-resistant. It has a rough outer coat and a softer, dense undercoat. The coat is usually cut so it has a shaggy, thick beard and eyebrows giving the dog its distinctive look. Dutch bloodlines are often larger and heavier than Belgian lines.
Coat:
The Bouvier des Flandres is a thick, heavy coated dog with a distinctive beard and moustache. The coat needs extensive and regular grooming. The outer coat is rough, harsh and shaggy looking while the undercoat is soft and dense.
Colour:
The coat can come in colours ranging from black, fawn, blonde, salt and pepper, grey or brindle, sometimes with a small white star on the chest. Solid black coats are not favoured in the show ring but are accepted. Blonde coats are not accepted.
Training:
The Bouvier is enthusiastic and quick to learn. This breed can be stubborn and dominant so consistent and firm training is required
Care:
The Bouvier des Flandres needs a lot of grooming. The coat is long and needs regular brushing, but only needs bathing or dry shampoo when necessary. This breed needs trimming at least three times a year and extra trimming of excess hair inside the ears and between toes is required. The bouvier usually has its fur trimmed to give it round feet. Regular grooming prevents excessive shedding and it has been reported that the Bouvier is good for allergy sufferers
Health:
The lifespan of a healthy individual is between 10 and 12 years, which is normal for a dog of this size. If you buy from a reputable, responsible breeder, health problems should not occur. The Bouvier is prone to hip dysplasia and eye problems such as cataracts. Being cattle herding dogs, they have a high pain threshold and can withstand a lot of contact with cattle's legs without feeling it which can make it difficult for veterinarian's to find out the source of pain. The Bouvier has a tendency to pass wind.
Exercise:
The Bouvier will do okay in an apartment provided it is sufficiently exercised. It is relatively inactive indoors and would benefit from a large yard. This breed is energetic and active and enjoys long, brisk daily walks or running alongside a bike. Due to its dominant nature it is important to ensure that you make this dog walk to heel on the lead. During the growing stage exercise should be carefully regulated to ensure that the bones, muscles and joints are not too stressed.
You may also like:










Advice on choosing your breed »
Find an animal shelter or rescue home where a Bouvier des Flandres is waiting for a new home »
The following grid gives a fast track review which covers all breeds. You can apply it to help you decide if a Bouvier des Flandres is suitable for you, the environment where you live, your personality and your lifestyle. On the grid, 1= strongly disagree, and 5= strongly agree. For example, if you are looking for a dog loves hiking, look down the list under Activities, and you will see that Bouvier's love jogging and walking, scoring 5. If you want a watchdog, look down at role and suitability, and you will see that Bouvier's make excellent guard and watchdogs, and score 5. You might like to save or print off this section and keep it for reference while you check some other breeds before making your final choice.
Be the first to rate this breed »
|
*PLEASE NOTE: All our breed profiles are general, and all dogs are individuals. Always talk to the breeders and meet the owners you are buying from. Try to meet the dog and its parents if it is a puppy in their home environment.