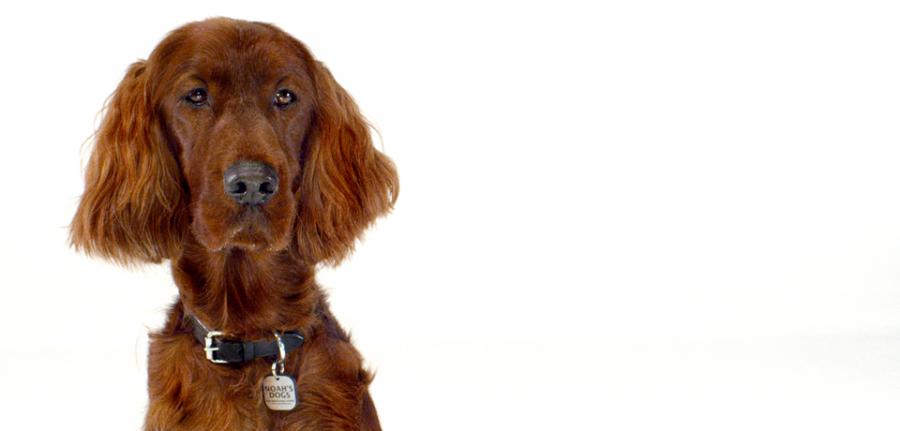 In my own words
Hey how are you doing? Are you ready for walkies? I'm ready for walkies! I'll go get my lead right now. Shall we go for a jog? I love jogging! Or maybe to the beach, wouldn't that be great? I love swimming! Not even water will slow me down! Isn't that amazing? Maybe later we can play with the children, I'd really like that. I love playing games, any game suits me just fine!
Did you know that my kind are all purpose hunting dogs, we can do everything. Isn't that handy? I'm like a one-dog-band all of my own! Who needs any other dog when you can have a dog like me, eh? Now, about that walk...
My ideal owner(s)
Families
Active seniors
Joggers and hikers
What they say about me
High energy
Intelligent
Sensitive
Jolly and giddy
Please read on, to find out more about me, and whether I will be someone you can be happy with for the next 15 years, or even longer!
Is this Irish Setter for you?
Test your knowledge about the Irish Setter
Information essential about the Irish Setter
Kennel Club Group:
Gun Dog
Size:
Large: Weight Male 65 – 75 lb (29 – 34 kg) Female 55 – 65 lb (25 – 29 kg)
Height Male 26 – 28" (66 – 71 cm) Female 24 – 26" (61 – 66 cm)
Popularity:
Breed History:
The Irish Setter was developed from mixing the Irish Terrier, Irish Water Spaniel, English Setter, Pointer and the Gordon Setter to be the ideal birding dog. They were categorised with a large group of red and white setters for hundreds of years until the early 1800s when the solid red Irish Setter became the commonly accepted type. They were originally known as Irish Red Setters in the United States.
When the breed included both white and red dogs, the breed had shorter legs to help the dogs "set" the game, allowing them to crouch low near the bird so the hunter could toss a net over the pray and the dog. In the 19th century selective breeding produced a dog with a pure chestnut red coat and white was bred out of the breed. The English and Irish Setters are both ancestors of the Spanish Pointer but the Irish Setter is probably older than the English Setter.
The Irish Setter is an all purpose hunting dog and is both a pointer and retriever in all types of terrain. They are especially good at hunting game birds as they have excellent noses and are very fast. When the Irish Setter finds his game he runs quickly back and forth in front of the hunter in order to alert him. Over the years many breeders have started breeding more for looks rather than the dogs hunting ability. The Irish Setter's talents include hunting, tracking, retrieving, pointing, watchdog, agility and competitive obedience.  With the instincts of a great hunter, the beauty of a show dog and the winning personality of a family pet, the Irish Setter is one of the world's most beloved dogs.
Character:
The Irish Setter is energetic, intelligent, affectionate, loving and high-spirited. They have no guarding instincts, get along with other pets and are very good with children. They can be reckless and highly strung if not given enough mental and physical exercise and may become destructive. They are impulsive and independent and sensitive to the tone of one's voice but will not listen to a weak owner. They do not respond well to harsh discipline and provided they are given firm handling and plenty of exercise they are a joy to own. Early training will prevent behaviour issues and discourage them from jumping on humans even as a puppy. They are relatively easy to housetrain. There are two types, field lines and show lines (bench). Field lines are bred for hunting and field trial work and are generally somewhat smaller with shorter coats. The bench type are bred for conformation shows. Both types are energetic and require lots of exercise but field lines have a higher energy level and require even more exercise. The dominancy level in this breed varies even within the same litter. If you are not the type of person who can display a natural air of calm, but firm authority, then be sure to choose a pup who is more submissive. The temperament of both show and field lines vary widely, depending upon how the owners treat the dog and how much and what type of exercise they provide. The Irish Setter is used for all types of hunting. They are extremely swift, with an excellent sense of smell and are hardy over any terrain and in any climate, working well even in wetlands. This breed should be always kept on a lead as they have a tendency to run off and can be difficult to catch.
Temperament:
This breed is affectionate, loving and sensitive but not recommended for the average home. They are extremely active and can become destructive if left alone for long periods of time. They require entertainment if they are to be well mannered and respectful. They form strong bonds with their owners but are gentle and welcoming to everyone. Aside from a good, healthy bark, they don't have any solid "watchdog skills." Strangers who drop by the house will most likely be wrangled into a lengthy game of fetch. Bred for hunting in the fields, Irish Setters are bursting with energy, quickness and endurance. If you're a jogger, runner or bicyclist, take them along. Irish Setters will be calm, happy and trainable as long as they have an outlet for this exuberant energy. Irish Setters have a rambunctious personality that's almost puppy-like—a trait that can linger long after the puppy years are over. Though always full of good intentions and great vibes,
Conformation:
This breed is an active bird dog. The head is long and lean and has at least double the width between the ears then it does in length. When viewed from the front the skull is oval and when viewed from the top it is slightly domed. The body is slightly longer than tall. The muzzle is moderately deep with a distinct stop. The teeth meet in a scissors bite. The nose is either black or brown with wide open nostrils. The medium sized eyes are almond shaped, set somewhat wide apart and are either dark to medium brown in color. The triangular, low-set ears are thin and hang close to the head. The front legs are straight and the feet are rather small with arched toes. The long tail almost reaches the hock, is thicker at the base tapering to a point. The coat is short and fine on the head and the front side of the legs and medium in length on other parts of the body. There is an even longer feathering on the ears, back of the legs, belly and brisket extending to the chest. Coat colors include mahogany to a rich chestnut red. There is no black, but may be a small amount of white on the chest, throat, toes and sometimes a thin centered streak on the top of the head. Young dogs can sometimes have a silvery-gray color behind the ears and legs that usually disappears as the dog grows.
Coat:
The coat is silky and feathered of medium length. The coat grows long on the ears, tail and chest.
Colour:
The coat comes in mahogany or rich chestnut red. Black is a disqualified colour but minimal white is allowed.
Training:
This breed requires an owner that is calm yet possesses an air of natural authority being firm, confident and consistent, giving the dog clear rules to follow. Meek or passive owners who do not provide enough exercise will find them difficult to train. This breed benefits from firm, positive training.
Care:
Daily brushing and combing will keep the coat in excellent condition. Ensure it is kept free from burrs and tangles and brush more frequently when the coat is shedding. Bathe and dry shampoo only when necessary. This breed is an average shedder and is rather clean, not requiring much coat maintenance.
Health:
The lifespan of a healthy individual is between 11 and 15 years. If you buy from a reputable, responsible breeder, health problems should not occur. This breed is prone to bloat and benefits from two or three small meals a day rather than one large meal. They also can suffer from epilepsy, severe skin allergies, elbow and hip dysplasia, hypothyroidism and eye problems such as PRA, auto-immune disease. Check regularly for ear infections and inflammation.
Exercise:
This breed is not recommended for apartment life unless the owners are active daily joggers or bikers and plan on taking the dog along with them. They do best with a large yard. All Setters require a daily, long, brisk walk or jog to prevent them becoming restless and difficult to manage. Do not allow the dog to walk in front of the person holding the lead as they can become dominant. This breed benefits from three walks a day and does not do well if left along for extended periods of time.
You may also like:











Advice on choosing your breed »
Find an animal shelter or rescue home where a Irish Setter is waiting for a new home »
The following grid gives a fast track review which covers all breeds. You can apply it to help you decide if a Irish Setter is suitable for you, the environment where you live, your personality and your lifestyle. On the grid, 1= strongly disagree, and 5= strongly agree. For example, if you are looking for a dog that likes to swim, look down the list under Activities, and you will see that Irish Setters love water and are strong swimmers, scoring 5. If you want a playful companion, look down the same list, and you will see that Irish Setters love to fetch and hunt, and score 5. You might like to save or print off this section and keep it for reference while you check some other breeds before making your final choice.
Be the first to rate this breed »
|
*PLEASE NOTE: All our breed profiles are general, and all dogs are individuals. Always talk to the breeders and meet the owners you are buying from. Try to meet the dog and its parents if it is a puppy in their home environment.