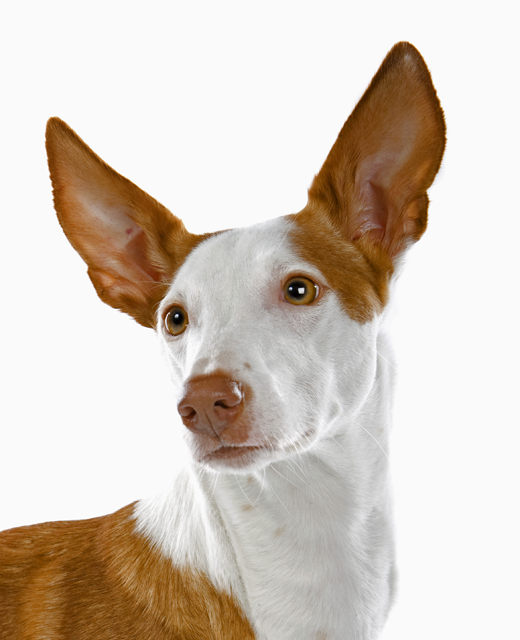 In my own words
I am an ancient breed with an exotic and highly distinctive appearance. I have also has been called the Anubis - the "Watchdog of the Dead" – a breed traced back to approximately 3400 B.C. in ancient Egypt. Many artifacts found in tombs of pharaohs reinforced the existence of a royal dog closely resembling the modern Ibizan. The affectionate nickname for my kind is "Beezer." I was originally bred to hunt rabbits and other small game in packs, by means of sound as well as scent and sight, using my tall, upright ears, keen nose and elongated body built for speed. We have an almost silent hunting sequence which has been described as: "detect, flush, chase at 40 mph (64 kg), kill with a neck-break, and then retrieve to owner." I have previously been described as a Greyhound-type, prick-eared, sickle-tailed dog, with a deer-like quality in both look and temperament. I'm an independent kind with good manners and a graceful gait, but will always be in touch with my instinctive hunting traits, and in particular my outstanding jumping qualities, no fence is too high.
My ideal owner(s)
Active
Confident
Calm
Patient Leader
What they say about me
Active
Stubborn
Independent
Engaging
Intelligent
Clownish
Handsome
Graceful
Athletic
Is this Ibizan Hound for you?
Test your knowledge about the Ibizan Hound
Information essential about the Ibizan Hound
Breed Group: Hound
SIZE
Height: Female: 24–26 inches (60–67 cm), Male: 26–28 inches (66–72 cm)
Weight: Female: 20.4–29.5 kg, Male: 20.4–29.5 kg
Popularity:
Ibizans lived a harsh life on their Spanish island, a life that shaped them to hunt with skill, tenacity, and patience. They might have remained there, little known, but for the importation of a pair, Hannibal and Certera, by Colonel and Mrs Consuelo Seoane to Rhode Island in 1956. They produced the first American litter of eight puppies, which, along with several other imports, became the foundation of the breed in the United States. 

The Ibizan hound was recognized by the American Kennel Club in 1979 and first appeared at the Westminster Kennel Club show in 1980. He remains a rare breed today. The Ibizan hound ranks 138th among the 155 breeds and varieties recognized by the AKC.
Breed History:
When King Tutankhamen's tomb was opened in 1922, one of the treasures found inside it was a life-size statue of the jackal god Anubis, the Watchdog of the Dead, and the resemblance to the modern Ibizan hound was striking. The carving and other artifacts from the time of the pharaohs suggest that dogs like the Ibizan hound have existed for 5,000 years, making them one of the most ancient types of dogs.
Turns out that supposition probably isn't correct, though. Genetic research has shown that the modern-day Ibizan, as well as his cousin, the Pharaoh Hound, are recent reconstructions of an older type and don't actually have a lineage that stretches back thousands of years.
The age of the Ibizan aside, how did this type of dog end up on the Spanish island of Ibiza, from which he takes his name? The Phoenicians, the most adventurous and well-traveled traders of the time, may have taken him there in the 8th or 9th century BCE. On Ibiza, the lithe and speedy hound traversed rough terrain, using his splendid sight and hearing to seek out his prey: rabbits and hares.
Character:
The Ibizan hound is an elegant, agile, deer-like hound with large ears and amber eyes that give the breed an exotic look. The lively Ibizan is attracted by anything that moves and will run after cats, rabbits, or anything else that looks like it might be fun to chase. His large, mobile ears are indicative of his super sense of hearing, which makes him an excellent watchdog. He might not bark an alarm, but if you see those ears twitching, you'll know something or someone is around.
Temperament:
With his family, the Ibizan is even-tempered, affectionate, and loyal. He may be reserved at first with strangers, but he should never be shy or aggressive. Temperament is affected by a number of factors, including heredity, training, and socialization. Puppies with nice temperaments are curious and playful, willing to approach people and be held by them. Because they're so playful and silly, Ibizans are good with children. They can be gentle but may chase young children who are running around. They're probably best suited to homes with older children who understand how to interact with dogs. The Ibizan hound is even-tempered, affectionate and loyal. Extremely versatile and trainable, he makes an excellent family pet, and is well suited to the breed ring, obedience, tracking and lure coursing. He exhibits a keen, natural hunting instinct with much determination and stamina in the field. An Ibizan hound grows very attached to his family and is quite loyal but he will still keep his independence. They definitely have an abundance of free will. They are always looking for ways to benefit themselves and that is critical to remember when working with your Ibizan. When training an Ibizan I always like to make it seem like it was their idea. The Ibizan hound is a hunting breed. They where bred to work with the hunter but also to work out away from the hunter (usually along with other Ibizans). They think for themselves and will find the best way to capture their prey. You can see this in the breed from the onset. They are great problem solvers, even if it's not a problem you really wanted them to solve! Ibizans usually make great watchdogs.  They are very alert about their surroundings and will bark when they feel something is not quite right.  They have big barks and can be quite intimidating to a passerby.  They are a much better watchdog then they are a guard dog though!
Conformation:
The beautiful red and white dog has a long, narrow head that resembles that of the Egyptian jackal god Anubis, large, erect ears that can point forward, sideways, or be folded backward, and flesh-colored pigment on the nose and eye rims, all of which combine to give him a unique appearance. More important is the wonderful personality that shines through. The Ibizan hound, nicknamed Beezer by his fans, is playful and sometimes silly. He's not a touchy-feely dog, but he enjoys snuggling with members of his family. The Ibizan can be reserved with strangers and protective of his home, but he should never be shy or aggressive. A medium-size sight hound who was developed to hunt rabbits and other small game; he was bred for speed, stamina, and determination. Today, those talents make this athletic dog a match for some of the top coursing breeds, as well as an excellent competitor in agility, thanks to his ability to jump high and far. Its lithe build enables it to perform the double-suspension gallop with great speed, agility and endurance. Ibizan Hounds enjoy their comforts--that sleek, sculpted body needs cushioning, after all--and can become couch potatoes who enjoy spending their days sleeping. Their exercise needs are moderate. They'll enjoy a couple of 20- or 30-minute walks or jogs daily. Whenever possible, give them a chance to run full out in a large, safely fenced area. The Ibizan hound comes in two coat types, shorthaired and wirehaired, and both are easy to maintain. 

Regardless of whether you want to compete or simply want a wonderful companion, this could be the breed for you. An Ibizan will walk or run with you, love you, and always make you laugh.
Colour:
Fawn, Red, White, Red & White
Training:
Train your Beezer with positive reinforcement techniques such as praise, play, and food rewards. Hounds in general weren't created to work closely with people, so they need short, fun training sessions that will hold their interest. Ibizan Hounds are intelligent and can learn quickly, but they'll become bored if training is repetitive. If you train your Ibizan correctly, he'll be an eager, enthusiastic student, but if your teaching methods are harsh or boring, this sensitive dog will refuse to respond to you. Management is the key to a well-behaved Ibizan hound puppy. An Ibizan puppy is energetic, adventurous, and fun loving. They need ways to keep themselves entertained or they will take it upon themselves to find something fun to do. This could be chewing on your favorite pair of shoes, re-decorating your house with toilet paper, etc.
Care:
With their quiet nature and moderate exercise needs, Ibizans are suited to most living situations, from condos to homes with yards, as long you can provide them with a couple of daily walks or runs. They aren't trustworthy off leash, however, and should never be allowed to run free except in a safely fenced area. An Ibizan is an excellent jumper and should be confined by a fence that's at least six feet high. Don't count on an underground electronic fence to keep him in your yard; the desire to chase a moving object will always overcome the threat of a momentary shock.
The Ibizan hound can have a coat that's shorthaired or wirehaired. The wirehaired coat can be one to three inches long, with the longest hair on the back, the back of the thighs, and the tail. He may sport a moustache on his muzzle. Whether he has a short or wire coat, the Beezer's hair is hard to the touch. Brush him weekly to remove loose hair and keep his coat shiny and skin healthy. You can brush him more often if you want to reduce the amount of hair he sheds. Bathe only as needed.
Brush your Beezer's teeth at least two or three times a week to remove tartar buildup and the bacteria that lurk inside it. Daily brushing is even better if you want to prevent gum disease and bad breath.
Trim nails once or twice a month.
Health:
Ibizan hounds can live as long as 13 years with relatively few genetic health issues. Some may develop allergies and seizures cataracts, congenital deafness, medial canthal pocket syndrome and epilepsy.
You may also like:











Advice on choosing your breed »
Find an animal shelter or rescue home where a Ibizan Hound is waiting for a new home »
The Ibizan is a gracious and kind natured dog that needs an active life to remain healthy and happy. Ibizans are known for their ability to jump 5-foot fences with ease. A yard with a secure fence is important for this breed. An Ibizan is generally aloof with strangers and considers himself to be equal in status with his human counterparts.
Living with an Ibizan hound you have to have a sense of humor.  They are big comedians and many times will try to do things just to make you laugh.  Even when they are doing something naughty sometimes all you can do is laugh because they seem to do it with such style.  They are very good at keying into how you are feeling and hate to see you upset or sad.  Ibizans also seem to be "forever young" and keep their youthful personality throughout life. They are playful and curious even as adults.  This is not to say there are no serious Ibizans out there either.
Add your own ratings on this breed »
|
*PLEASE NOTE: All our breed profiles are general, and all dogs are individuals. Always talk to the breeders and meet the owners you are buying from. Try to meet the dog and its parents if it is a puppy in their home environment.