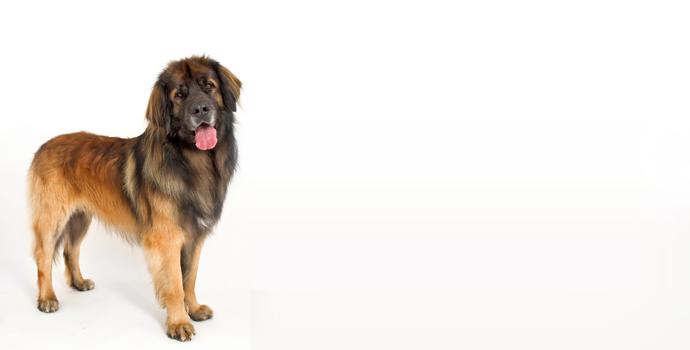 In my own words
Hey, want a cuddle on the sofa? I don't know if there's much room for you to sit though. They call me a gentle giant because of my size! I like a lot of space to stretch out my toes, those tiny apartments are no good for a dog as big as me! But to go with my size I have a really big heart you know. I love everyone. I love my family most of all. And cuddles, I love cuddles. Want a cuddle? I'm your dog!
Want to go for a swim instead? I love swimming! I like the cold too, I don't like it when it gets too hot, do you? I hate being all sweaty and panting everywhere! It's much nicer in cool places, don't you think? Snow is really pretty, I love to play in it! The children love playing in snow too, we could have an awesome time. Then we can all come inside for cuddles and warm up. Good idea, don't you think?
My ideal owner(s)
Families with older children
Active singles
Experienced dog handlers
Cold-climate dwellers
What they say about me
Gentle
Calm and patient
Friendly
Loyal and dependable
Please read on, to find out more about me, and whether I will be someone you can be happy with for the next 10 years, or even longer!
Is this Leonberger for you?
Test your knowledge about the Leonberger
Information essential about the Leonberger
Kennel Club Group:
Not AKC recognised
Size:
Large: Weight Male 130 – 170 lb (59 – 77 kg) Female 100 – 130 lb (45 – 59 kg)
Height Male 29 – 31" (74 – 79 cm) Female 27 – 29" (69 – 74 cm)
Popularity:
Breed History:
During the 19th century a German breeder named Heinrich Essig wanted to create a unique dog to promote his hometown of Leonberg. He crossed several large breeds such as the Saint Bernard and the Newfoundland to create the big, beautiful canine known as the Leonberger which instantly became popular with European and Russian royals. It is reputed to have been bred to have the look of the lion on the Leonberg town crest. The first dogs registered with the name Leonberger appeared in the 1840s and were used as strong, multipurpose farm dogs, able to withstand the cold temperatures of the high mountains. This breed quickly became popular due to its solid, steady nature, watchdog tendencies and brute strength for pulling carts and general draft work.
This breed almost became extinct during World War I but enthusiasts restored and revived the breed. They are considered to be the oldest of the German breeds. The Leonberger continues to be used as a working breed and companion in Germany, France and Scandinavia but is relatively rare in other countries. With its Newfoundland heritage this breed is an excellent swimmer and is used in countries including Italy and Canada as surf and sea lifesaving dogs.
Character:
This breed has a lovable and friendly personality and are often seen as a "gentle giant". They are very sociable dogs which require plenty of attention, otherwise they can become listless and bored. They like being involved in family occasions and can be very sensitive to family moods, sometimes becoming agitated during family quarrels. The Leonberger is a friend for life, they are affectionate and loyal to their family. This breed is calm, patient and gentle with children, dogs and other pets. They do no do well if left along for extended periods of time and can bark and become destructive if they get bored or lonely. They are protective and self assured but require a highly dedicated owner.
Temperament:
This breed is solid, steady and safe. They are the perfect family dog, making a first class companion and having highly unusual patience with children and other animals. They are self disciplined, alert, intelligent, obliging and loyal. The Leonberger is  adaptable to many environments but generally needs a home that can accommodate its extra large needs and size. If allowed to, this dog can become  lazy but this breed has stamina rarely seen in a dog and can go on all day if necessary. They love nothing more than a comfortable bed and provide affection on tap to their loving family. They can be a little stubborn but are generally easy to train as they love to please their family. This dog is naturally sociable and can live happily with other pets and even can take on a guardian role to some animals.
Conformation:
This breed is large and big-boned, covered in a rough, medium-long coat that is usually orange brown or reddish brown. The head is big and slightly rounded with friendly brown eyes, strong muzzles with black "masks" and lion-like manes. They have a regal but powerful look. They have a gentle expression and are very sturdy, yet elegant. Well muscled without being too heavily framed, this dog has a deep chest. The trail is very long and reaches the hock of the hind legs. The coat is water resistant and able to withstand very cold and harsh temperatures, in and out of water.
Coat:
The Leonberger is a double coat breed. The outer coat is long, profuse and straight while the undercoat is thick and dense. They have a mane of hair on the chest and around the neck with feathering on the front legs. The hair on the breeches is profuse and thick.
Colour:
The coat can be any shade from sandy, yellow, red, reddish brown and orange brown
Training:
This breed benefits from early socialisation and obedience training. They are intelligent and eager to please but will not respond to harsh or heavy-handed training methods. Training must be done with respect, fairness, firmness, patience and consistency. They can be a stubborn breed at times but are generally easy to train.
Care:
This is a high maintenance breed that requires daily brushing to remove dead and loose hair and minimise shedding. Special care should be taken during seasonal shedding of the coat. Bathing should only be done when necessary. It is important to regularly clean the ears and provide good dental hygiene. This breed is continuously heavy shedding with a seasonal shedding of the coat. While its thick coat may seem warm in the summer months, it can insulate it against extreme heat and therefore should not be shaved. It is wise to limit exercise during the heat of the day and provide access to fresh water and shade. Do not consider getting this breed unless you are able to commit to its needs.
Health:
The lifespan of a healthy individual is up to 10 years. If you buy from a reputable, responsible breeder, health problems should not occur. This breed is prone to health issues such as hip dysplasia, OCD, Addison's disease, entropion, ectropion, osteosarcoma and hypothyroidism. Like some other large breeds, they are prone to bloat and benefit from several smaller meals during the day rather than one large meal. Leonberger's may be sensitive to some drugs such as sulfa, tranquilisers and anaesthetics.
This breed is very large and unsuitable to apartment living. They need lots of room and are suited to cool climates. They do not need excessive amounts of exercise, a daily walk will keep them mentally and physically fit. This breed is an indoor dog. This breed does well in a large securely fenced yard or rural setting and enjoys swimming, hiking, backpacking, running and family activities. They excel at agility, tracking, therapy and water rescue.
You may also like:









Advice on choosing your breed »
Find an animal shelter or rescue home where a Leonberger is waiting for a new home »
The following grid gives a fast track review which covers all breeds. You can apply it to help you decide if a Leonberger is suitable for you, the environment where you live, your personality and your lifestyle. On the grid, 1= strongly disagree, and 5= strongly agree. For example, if you are looking for a dog that likes to swim, look down the list under Activities, and you will see that Leonbergers love water and are strong swimmers, scoring 5. If you want a playful companion, look down the same list, and you will see that Leonbergers love to fetch and hunt, and score 5. You might like to save or print off this section and keep it for reference while you check some other breeds before making your final choice.
Add your own ratings on this breed »
|
*PLEASE NOTE: All our breed profiles are general, and all dogs are individuals. Always talk to the breeders and meet the owners you are buying from. Try to meet the dog and its parents if it is a puppy in their home environment.