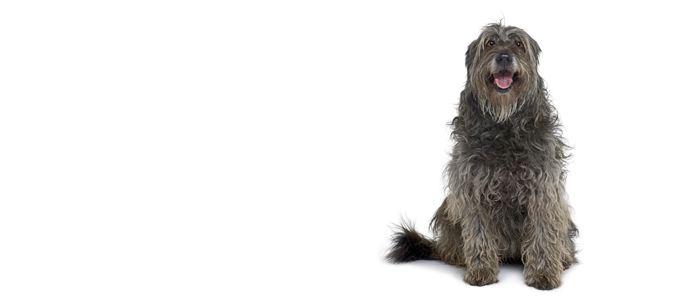 In my own words
"I'll be your best friend forever! I love my family more than anything."
They say I look quite noble with my beard and moustache, do you agree? I think I could pass off as quite regal myself, I'm very well behaved even if I do say so myself! My kind are usually herding dogs but I make a good watchdog you know... And I make a really good family dog! I love nothing more than being with my family, even playing with the children is fun! Are they going to be home soon? I'd love to go out and play!
My ideal owner(s)
Active, outdoorsy types
Families with children
Shepherds
What they say about me
Protective
Intelligent
Trainable
Agile
Cheerful
Please read on, to find out more about me, and whether I will be someone you can be happy with for the next 12 years, or even longer!
Is this catalan sheepdog for you?
Test your knowledge about the catalan sheepdog
Information essential about the Catalan sheep dog
Kennel Club Group:
Pastoral
Size:
Medium: Weight 35 – 45 lb (15.9 – 20.5 kg)
Height: Male 19 – 22" (47 – 55 cm) Female 18 – 21" (45 – 53 cm)
Popularity:
The popularity of this breed began to dwindle in the 1970s but Catalonian Sheepdog enthusiasts have since tried to increase its popularity although it remains a fairly rare breed.
Breed History:
The Catalan Sheepdog originates from the Andorra region of Spain and was originally bred for herding and guarding flocks. It is believed that the ancestor, the Bergamasco, of this dog and many other Sheepdogs across Europe dates back to the time of the Roman Empire and each breed was created by crossbreeding the Bergamasco with other local breeds. They have served as guard dogs and messengers in several wars including the Spanish Civil War and are also used as search and rescue dogs in their native Spain.
Character:
This breed is quiet but cheerful and very intelligent. They are happy, energetic and obedient to their master and loyal to their family. They can become very attached to their family and are devoted to their family and work. They are active and intelligent with a noble expression.
Temperament:
This courageous breed has been used for herding, as a watchdog and makes a great companion. They are an 'all round dog' and are gentle, cheerful and good with children and other animals. They are calm and well balanced and creates a strong bond with their family as they are very loving. They are alert and sometimes weary of strangers but make an excellent family dog.
Conformation:
The Catalan Sheepdog is not a bulky breed with an athletic and solid physique. They are hardy and well balanced. The head is strong and well proportioned and the muzzle is straight, short and blunt. The eyes are round and dark amber or chestnut in colour and they have an alert, intelligent expression. The ears are high set and hang close to the head. The neck is moderately short, solid and muscular while the shoulders are well laid back. The double, boned dew claws set low are characteristic of this breed. The tail is low set although some can be born tailless.
Coat:
The coat is long, limp and slightly curly with a shaggy look to it with a denser undercoat. They have full beards and moustaches. When the coat sheds, they usually lose hair from the back first which can give the impression of two coat types until the coat has entirely shed. There is a shorthaired variety but it is now so rarely seen it is thought to be almost extinct.
Colour:
The coat comes in sable, fawn or grey with varying amounts of reddish brown, chestnut, black or white
Training:
The Catalan Sheepdog is an intelligent and trainable breed but early socialisation and training is a must to prevent shyness in this breed. They respond well to firm, positive and patient handling. This breed excels at dog sports such as agility, 'doggy dancing', competitive obedience and herding trials.
Care:
The coat is easy to maintain but does require a good daily brushing, particularly when shedding as the coat sheds oddly from the back which makes it appear to have two separate coats. Regular brushing during this period will help remove the loose fur. Their long beards and moustaches require regular cleaning.
Health:
The lifespan of a healthy individual is between 12 – 14 years, which is normal for a dog of this size. If you buy from a reputable, responsible breeder, health problems should not occur. This breed is prone to Hip Displasia so it is recommended that puppies are hip tested before purchase.
Exercise:
This is an active and energetic breed which requires a moderate amount of exercise. They excel at all types of dog sports such as agility, competitive obedience and herding. This breed benefits from long walks and a good amount of physical and mental stimulation to keep them fit and healthy.
You may also like:





Advice on choosing your breed »
Find an animal shelter or rescue home where a Catalan sheep dog is waiting for a new home »
The following grid gives a fast track review which covers all breeds. You can apply it to help you decide if a Catalan sheepdog is suitable for you, the environment where you live, your personality and your lifestyle. On the grid, 1= strongly disagree, and 5= strongly agree. For example, if you are looking for a dog that likes to go for walks, look down the list under Activities, and you will see that Catalan Sheepdog love running and walking, scoring 5. If you want a friendly companion, look down at Behaviour, and you will see that Catalan Sheepdogs are friendly with strangers, and score 5. You might like to save or print off this section and keep it for reference while you check some other breeds before making your final choice.
Be the first to rate this breed »
|
*PLEASE NOTE: All our breed profiles are general, and all dogs are individuals. Always talk to the breeders and meet the owners you are buying from. Try to meet the dog and its parents if it is a puppy in their home environment.