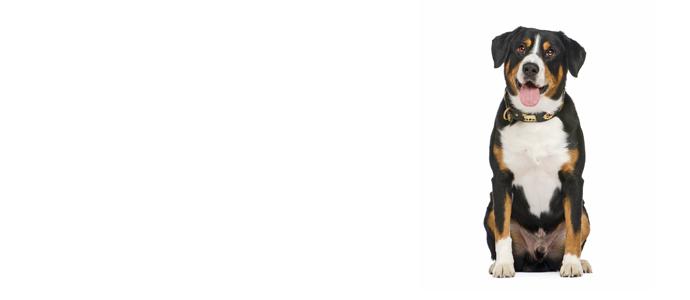 In my own words
My kind has always been a working dog but I love being a family companion just as much! I'm absolutely devoted to my family and I'll do anything to protect my "flock". You're in safe hands with me! I love playing with the children too, it's great fun being included in all the family activities. I just love it!
I've got bundles of energy and I just can't wait to get going for a walk or a run. There's nothing like feeling the breeze on your face! As long as I've got something to do, I'm happy. I hate being bored you see, I like to be on the go as much as possible! Now... Do you fancy going for a run...?
My ideal owner(s)
Singles
Active, outdoorsy types
Families with older children
What they say about me
Self confident
Devoted
Independent
Agile
Please read on, to find out more about me, and whether I will be someone you can be happy with for the next 11 years, or even longer!
Is this Entelbucher Mountain Dog for you?
Test your knowledge about the Entelbucher Mountain Dog
Information essential about the Entlebucher Mountain Dog
Kennel Club Group:
Working
Size:
Large: Weight 45 – 65 lb (20.4 – 29.5 kg)
Height: 17 – 20" (44 – 52 cm)
Popularity:
This rare breed is popular in its native Switzerland but rarely seen outside of its homeland.
Breed History:
The Entlebucher is named after a town and region in the Swiss canton of Lucerne. It is the smallest of the four breeds of Swiss Mountain Dogs. It is believed to be descended from the fighting and guarding mastiffs brought to Switzerland by the Romans in the first century B.C. The Entlebucher was only described as a separate breed in 1889 though initially little distinction was made betweehnthe Entlebucher Sennenhund and the Appenzeller Sennenhund. The breed was saved from extinction by the efforts of Franz Schertenlieb and Professor Albert Heim who was an advocate for rare Sennenhund breeds.
After WWI no examples of the breed were found until 1927 when sixteen were found and the breed was restored. The first breed club was formed in 1926. Originally this breed was used for guarding and herding but today the Entlebucher is a companion dog.
Character:
This breed is good natured and devoted to its family. They are versatile, lively and active and extremely protective of their family. They are sociable and very much a people's dog who like to be surrounded by activity and people.
Temperament:
This breed is intelligent and sociable although they can be reserved with strangers. They are lively, active and energetic as well as being self assured and determined – particularly when they are working. They do best when they have a job to do but they do make trusted companions and great family members. Their are faithful and loving towards their family as well as being quite protective of them.
Conformation:
The Entlebucher is sturdy, square, working dog. The ears are small and triangular and the eyes are small, brown and lively. The head is well proportioned and the skull is strong and flat. The jaw is long, well formed and powerful. The feet are compact and the body is muscular. The tail is sometimes docked which is prohibited in some countries or it may have a natural bobtail.
Coat:
The coat is smooth, close and harsh with symmetrical markings of black, tan and white.
Colour:
The coat comes only in tricolour. The coat has white on its toes, tip of the tail, chest and blaze with tan always between the black and white markings.
Training:
This breed is alert and eager to please as well as being very intelligent. Early socialisation is required as they can be somewhat reserved with strangers. Early obedience training is recommended and the Entlebucher responds best to a firm, calm and consistent handler.
Care:
The Entlebucher has a smooth coat which is easily groomed and they benefit from regular brushing. This breed is an average shedder.
Health:
The lifespan of a healthy individual is about 11 to 15 years. If you buy from a reputable, responsible breeder, health problems should not occur. Due to this breed's rarity, inbreeding has led to congenital defects in this breed such as hip displasia. They are also known to suffer Hemolytic anaemia and Progressive Retinal Atrophy.
Exercise:
This breed is active and energetic and requires good daily walks or jogs to keep them fit and healthy. They are not recommended for apartment dwelling as they need plenty of space. The Entlebucher needs plenty of physical and mental stimulation as it is a working dog. They do best when they have a job to do.
You may also like:










Advice on choosing your breed »
Find an animal shelter or rescue home where a Entlebucher Mountain Dog is waiting for a new home »
The following grid gives a fast track review which covers all breeds. You can apply it to help you decide if a Entlebucher Mountain Dog is suitable for you, the environment where you live, your personality and your lifestyle. On the grid, 1= strongly disagree, and 5= strongly agree. For example, if you are looking for a dog that likes running and jogging, look down the list under Activities, and you will see that Entlebucher Mountain Dog loves running and jogging, scoring 5. If you want a guard or watch dog, look down at Role and Suitability, and you will see that Entlebucher Mountain Dog make excellent guard and watch dogs, and score 5. You might like to save or print off this section and keep it for reference while you check some other breeds before making your final choice.
Be the first to rate this breed »
|
*PLEASE NOTE: All our breed profiles are general, and all dogs are individuals. Always talk to the breeders and meet the owners you are buying from. Try to meet the dog and its parents if it is a puppy in their home environment.